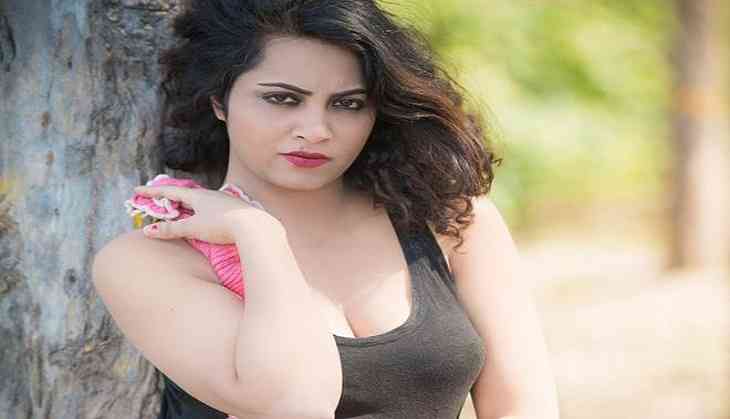 The popular and the most talked about show of the Television, Bigg Boss has just seen the entry of it's two wildcard contestants, Dhinchak Pooja and Priyank Sharma of Splitsvilla 10. Soon after Priyank re-entered the house, he started making some shocking revelations about some of the contestants in the house that later led to a fight which has now taken a serious turn outside the house too.
In a latest incident that happened in the house, a verbal fight took place between Arshi Khan and Sapna Chaudhary over Dhinchak Pooja's viral song that Bigg Boss had asked her to make in the house. The fight took an ugly level when Priyank asked Sapna to poke Arshi by using the phrase 'Goa-Pune kaand' after whch Arshi broke down and told that her parents will disown her after watching this episode.
Also Read: Bigg Boss 11: Shilpa Shinde opens up about her MMS, one night stand and her marriage plans
Check out a glimse of their fight here:
Sapna Choudhary loses her calm at Arshi Khan & Akash Dadlani. Tune in tonight at 10:30pm to find out why! #BB11 #BBSneakPeek pic.twitter.com/5tvUwo29iZ

— COLORS (@ColorsTV) October 27, 2017
Now that an FIR has been filed against the handsome hunk and Haryanvi dancer, the channel and Endemol, everyone was curious about what this scandal is all about. So here it goes- Arshi Khan was involved in a high profile sex racket. According to reports published in Pune Mirror in October 2016, Arshi had claimed, "I had put up at a hotel in Pune as I had an event there. It was around 12:45 am that 10 Crime Branch officers came to arrest me because I am a Pakistani Muslim. There took away all my ID proof and documents. Senior Inspector, Sandeep Patil was unaware of the fact that I had switched on the recorder of one of my phones. They made a sexual demand of Rs 15 lakhs from me."
Also Read: Bigg Boss 11 November 2 highlights: Vikas Gupta tries to run away and fought with his friend Priyank Sharma; 5 Catch points of last night's episode
However according to the official spokesperson for Pune police, said, "We have ample evidence to show that the model was there for the flesh trade. There are telephone conversations between her and the agent, which have been recorded, wherein they are discussing charges, what to do and what not to do with the client. We have also video recorded the room where the trap was laid in the presence of women police officers. So, it is a baseless allegation by the model that money or sexual favours were demanded from her. It is nothing but an afterthought."
In the same case, it also came out that a controversial self-proclaimed Godwomen, Radhe Maa, was also involved in this high profile sex-racket. Not only involved, she was the only one who ran this prostitution racket. Arshi had in a statement also said that Radhe Maa had also appraoched her through her business agent and was given an offer to join the racket.
Also Read: Bigg Boss 11: Know who will be the winner of this season
Talking about another Goa 'kaand', according to a portal, the Goa police arrested her from a beach side 5-star restaurant where she was accused of being involved in prostitution.The portal further reported that Arshi flew back to Mumbai after prooving the cops that she was innocent and not guilty.
Arshi had even given many bytes to the media but everyone is shocked that why has she given such a reaction in the house. Now that Priyanka and Sapna are in trouble, it will be intersting to see what this twist in the game will lead to.
Also Read: Bigg Boss 11: Here's what Arshi Khan has to say on Pune prostitution 'kaand'; see video
Stay tune for more updates related to Bigg Boss season 11.