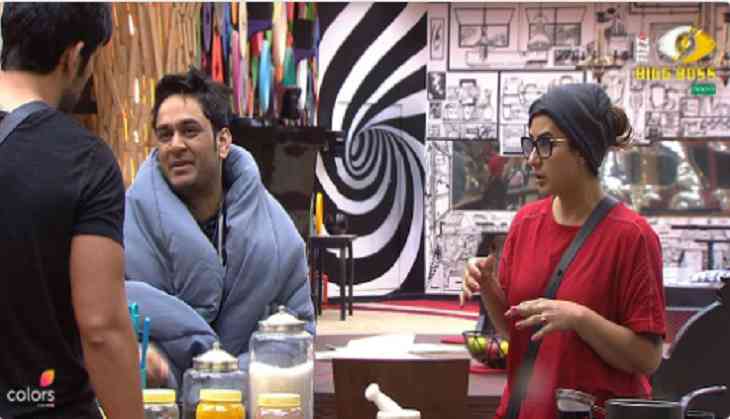 Popular reality show Bigg Boss began just a week ago but the contestants of the show have already started playing their games. The house is divided into various groups where on one hand the house has Shilpa Shinde, Arshi Khan, Akash Dadlani and Puneesh Sharma and on the other hand Vikas Gupta and Hina Khan are heading the remaining contestants.
Also Read: Bigg Boss 11: Are Vikas Gupta and Splitsvilla 10 fame Priyank Sharma dating each other
Since it was the Friday Ka Faisla episode yesterday, a lot of things happened everything instead of peace and harmony happened in the house. For those who did not get time to watch the last night's episode of Bigg Boss, we bring to you the 5 major highlights from last night's Friday Ka Faisla episode that created a buzz amongst the contestants as well as the fans of the reality show.
.@lostboy54 aur #ShilpaShinde have an argument about tea! #BB11 #FridayKaFaisla pic.twitter.com/8ITCXMwdwX

— COLORS (@ColorsTV) October 6, 2017
1. The fight between Shilpa Shinde and Vikas Gupta took an ugly turn when Shilpa dropped something in Vikas' tea and later in order to take revenge from the actress, Vikas spilled tea on Shilpa's clothes. Shilpa Shinde while talking to Arshi revealed that Vikas Gupta and his team had made her MMS.
Begin your weekend with a bang! Find out what's in store for you on #BB11's #FridayKaFaisla!https://t.co/yg1rk1NeLD

— Bigg Boss (@BiggBoss) October 6, 2017
Also Read: Bigg Boss 11: Zubair Khan not related to the family of Haseena Parkar; FIR to be filed against him
2. Another war takes place in the house after Arshi Khan decided to drink milk the whole day after her tea was burnt by a housemate. This later led to a verbal spat between Arshi and Hina where Arshi calls her 'patli Dolly Bindra'.
Shilpa Shinde tries to get out of the Kalkothri; while Akash Dadlani helps her out! #BB11 #FridayKaFaisla pic.twitter.com/wmdlZux4wj

— COLORS (@ColorsTV) October 6, 2017
3. Bigg Boss tells the contestants to decide three names of the housemates who will be entering the Kaal Kothari this time. The housemates decides the name of Shilpa Shinde, Akash Dadlani and Arshi Khan but the padosi contestants of the show later took the final call and replaced Arshi's name with that of Zubair Khan.
Arshi Khan & @eyehinakhan engage in a battle of words, once again! Who are you supporting in this war? #BB11 #FridayKaFaisla pic.twitter.com/ecXQvICaun

— COLORS (@ColorsTV) October 6, 2017
Also Read: Bigg Boss 11: Know who is Salman Khan's favourite contestant in the house
4. Hina Khan breaks down after padosis save Arshi even after she misbehaved with her and yells that she is least bothered about the neighbours.
#ShilpaShinde leaves the jail to get back at @lostboy54! Find out if she's successful, tonight 10pm only on #BB11! #FridayKaFaisla pic.twitter.com/5piHvARaPm

— COLORS (@ColorsTV) October 6, 2017
5. Shilpa, Akash and Zubair enters the Kaal Kothari of Bigg Boss but in a shocking series of events, she treid to sneak out of the jail and even succeeds in doing the same. She rushed back to Vikas and keeps a slipper next to Vikas Gupta's pillow while he was sleeping. The three of them rejoice and Shilpa is happy because she thinks she can do anything to trouble Vikas and she won't be blamed as she is in the jail.