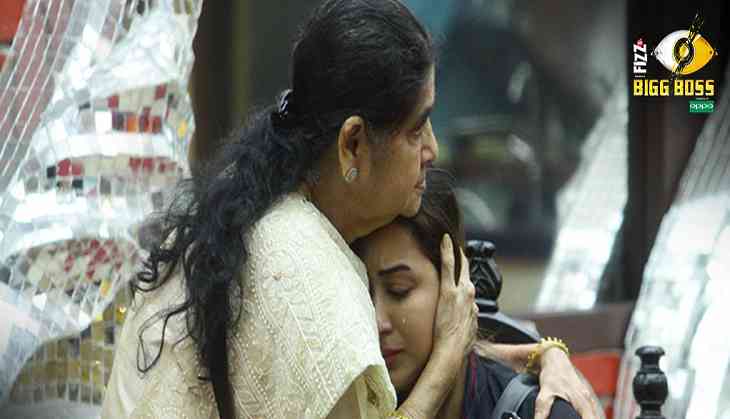 Popular reality show Bigg Boss 11 saw a stream of emotions flowing down in the house when their family members paid a visit and surprised them. Mothers' of Vikas and Shilpa, fathers' of Puneesh and Arshi, girlfriend of Priyank Sharma visited the house.
For those who missed the last night's episode of the show, here are the highlights in the form of 5 Catch points that will make you updated about the show.
ALSO READ: Bigg Boss 11: This is what Vikas Gupta did with Priyank Sharma when his ex-girlfriend left the house
Check them out:
Puneesh Sharma meets his father in a special encounter only on #BB11. Who else loves this reunion on #BB11? pic.twitter.com/knUGAaGxjn

— COLORS (@ColorsTV) December 7, 2017
1. Hina announced the luxury budget task in which the contestants have to remain still and at that time everyone guessed that their family members are going to enter the house. Vikas and Shilpa got emotional. Bigg Boss freezed everyone and at that point Puneesh's father entered the house and gave suggestions to everyone. When Puneesh got released he hugged his father tight and got emotional.
Arshi Khan's father arrives in the #BB11 House and it seems like he has opinions of his own! Catch the hungama between him & Arshi now! pic.twitter.com/Yol0JV5FT0

— COLORS (@ColorsTV) December 7, 2017
2. Next in line came Arshi Khan's father who appreciated everyone and asked Arshi to change her look and her hairstyle. After he left the house, Shilpa and Arshi got into a fight with each other when Arshi claimed that Shilpa was looking at her father with bad intentions. Also, Vikas told everyone not to fight since everyone's families are coming today.
Woah! The housemates freeze as Shilpa Shinde's mother arrives in the #BB11 House. What effect will her words have? Tune into to find out now! pic.twitter.com/3k04DG6O13

— COLORS (@ColorsTV) December 7, 2017
3. Shilpa Shinde's mother enters the house and tells everyone that she is happy that everyone had callled her daughter 'a mother'. Shilpa's mother asked Shilpa to get her some food cooked by her but she lets her know that her position has been changed. Everyone offers juice to Shilpa's mother while Arshi did not speaks to her.
ALSO READ: Bigg Boss 11: Good News! Hina Khan to get engaged with boyfriend Rocky Jaiswal on the show; see video
.@priyanksharmaa has a special visitor in the House. Watch @Divya_Agarwal_ express her feelings only on #BB11! pic.twitter.com/LHVVoJC5VZ

— COLORS (@ColorsTV) December 7, 2017
4. After Shilpa's mother leaves, Priyank's girlfriend Divya Aggarwal enters the house and informed him that he has hurted a lot of girls both in the house and outside the house. She told her that Vikas is the only person who thinks about him and no one else and he did not need the group to be in the game. She also tells him that she has moved on from their relationship.
.@priyanksharmaa justifies himself as the others seem to question him! Tune in to #BB11 to watch all the drama unfold!

— COLORS (@ColorsTV) December 7, 2017
5. As soon as Divya left, Priyank got emotional and kept shouting 'D' to call her back. Vikas and Hina got upset with him. Hina asked Vikas about his US girlfriend. She later went to Priyank and said that his image has been ruined in the show. She also told him that she had warned him earlier about Benafsha and Priyank said that there was nothing between they both.
ALSO READ: TRP Report Week 48: KumKum Bhagya and Kundali Bhagya amaze while Bigg Boss 11 disappoints; check out the full list here
For more news related to Bigg Boss 11, stay tuned!