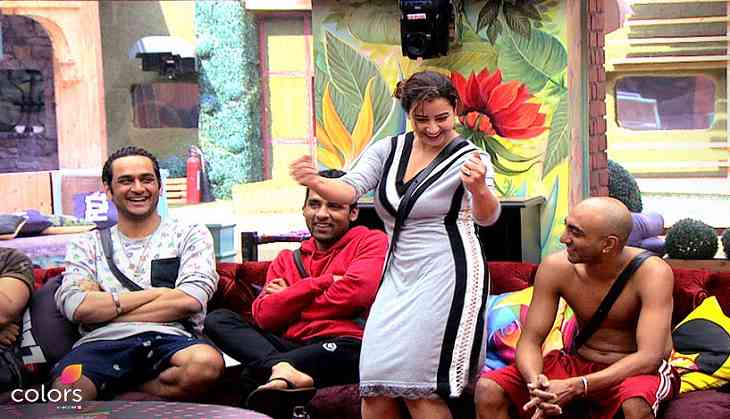 The popular reality show, Bigg Boss season 11 began with a new week last night after the Weekend Ka Vaar episode in which Bandgi Kalra got evicted and bid goodbye to everyone in the house. The last night's episode was all about fun, tasks and nominations. Every contestant saved one member and at the last Shilpa Shinde and Akash Dadlani got nominated for this week.
For those who did not watched the last night's episode of the reality show, here are the highlights in the form of 5 catch points that you should definitely check out in order to get aware about the latest happenings in the house.
ALSO READ: Bigg Boss 11: Here is how Twitterati reacted when lovebirds Puneesh Sharma, Bandgi Kalra got separated
Check them out:
.@eyehinakhan gives Arshi Khan a very important advice. Find out what it is only on #BB11.

— COLORS (@ColorsTV) December 4, 2017
1. After Puneesh came back, Shilpa tells her that she felt suffocated without him in the house and told him that she and Akash were praying that he should come back. A fight takes place between Akash and Arshi and she went out for support from many people like Luv, Priyank, Hiten and Vikas. Hina asked her to be patient while dealing with Akash.
Luv Tyagi and @ipriyanksharmaa discuss about @eyehinakhan. Watch #BB11 to see what they are talking about. pic.twitter.com/Oc3yanNQJQ

— COLORS (@ColorsTV) December 4, 2017
2. Luv and Priyank while sitting in the garden discussed about Hina when the former said that she was upset Priyank did not support her to which he replied that she is making an issue out of nothing.
The boys begin their 'seva'! Watch #BB11 to catch all the fun! pic.twitter.com/J1qtYNYbWm

— COLORS (@ColorsTV) December 4, 2017
3. Bigg Boss gave a task to everyone in which the house will be ruled by the women of the house while the men will have to serve them. Each lady was appointed with two servants who will take care of the needs. Hiten, Vikas were the servants of Arshi, Akash and Priyank were the servants of Shilpa while Luv and Puneesh were the servants of Hina. All of them enjoyed during the task.
ALSO READ: Bigg Boss 11: Shilpa Shinde reveals the reason why she ran away from her marriage; see video
OMG! @lostboy54 chooses to save Luv Tyagi and nominate Shilpa Shinde in his place. What will happen next, find out on #BB11.

— COLORS (@ColorsTV) December 4, 2017
4. The process of nominations happened in which Bigg Boss asked everyone to save anyone member. After the process got over Luv and Akash got nominated after which Bigg Boss introduced a new twist in which Vikas had to save one of the two and he saved Luv and nominated Shilpa in place of him.
.@ipriyanksharmaa apologises to @eyehinakhan. Will she forgive him? Tune in to #BB11 to find out.

— COLORS (@ColorsTV) December 4, 2017
5. Priyank talked with Hina Khan and apologized to her for whatever he said. She told him that no one saved her in the nominations.
ALSO READ: Bigg Boss: Here are some records and lesser known facts about the show
For more news related to Bigg Boss 11, stay tuned!