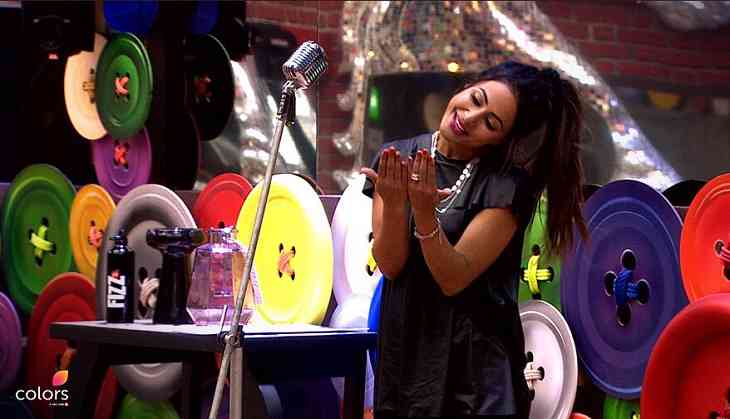 The popular reality show is moving towards its finale week and the makers of the show are leaving no stone unturned in making the show interesting. Recently they planned to again call the relatives and friends of the housemates that are present in the house. The last night's episode of the reality witnessed the family members entering the Bigg Boss house that made everyone excited and scream with joy.
For those who were unable to watch last night's episode of the reality show, here are the highlights in the form of 5 Catch points that will update you about the show and its recent happenings.
Check them out:
Puneesh Sharma has started missing Bandgi at the #BB11 house. Keep watching #BB11 for all the fun.

— COLORS (@ColorsTV) December 26, 2017
1. Contestants discussed who will get eliminated this week. While Shilpa and Puneesh felt that Priyank will leave the house, Vikas on the other hand felt its the turn of Luv. Puneesh missed Bandgi and though of writing a message for her while other pull his leg and said that she will celebrate New Year with her family.
Ghar Aaye Gharwalein is the luxury budget task! Click here to find out more. #BB11https://t.co/Ttr8RJ4Dx0

— COLORS (@ColorsTV) December 26, 2017
2. Bigg Boss showed the contestants the clip of the padosi house and suddenly the family members start entering the Bigg boss house. Bandgi, Shilpa's brother, Rocky Jaiswal, Luv's mother, Akash's mother, Vikas' mother and Priyank's mother enter the house. Everyone became happy and started shouting while started talking about Luv and Akash's mother who looked like sisters.
The housemates are all buckled up for the task. Will they be able to prepare some nice food for their relatives? Find out only on #BB11. pic.twitter.com/eK1MbsvwLo

— COLORS (@ColorsTV) December 26, 2017
3. The contestants discussed about the reason why they have entered the house while the padosis discussed about the place. Vikas announced a task in which the housemates had to impress their family and their friends. The family members will access their performance and will give them points. The first task was of cooking in which Shilpa emerged out to be the winner and scored 60 points.
.@lostboy54, Akash Dadlani and @eyehinakhan share their amusing views about the housemates. Keep watching #BB11. pic.twitter.com/NYWRpdW9S0

— COLORS (@ColorsTV) December 26, 2017
4. The second task was announced in which the contestants had to entertain their family members and in which Hina won and score 60 points.
There's some interesting chit-chat happening in the Padosi Ghar! Catch all the entertainment only on #BB11.

— COLORS (@ColorsTV) December 26, 2017
5. In the padosi house, Vikas' mother and Shilpa's brother had a conversation about their matter. While Shilpa's brother tried to avoid the conversation, Vikas' mother said that her son had never said wrong things about her.
For more news realated to Bigg Boss 11, stay tuned!