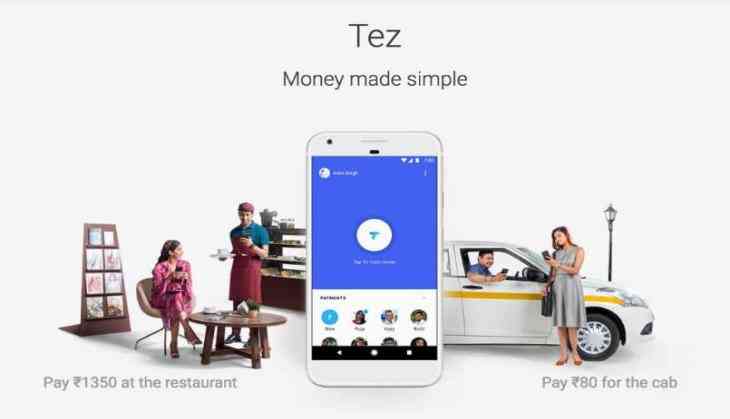 UPI-integrated Google Tez embraced by over 4 lakh Indians in just 24 hours
US tech giant Google on 18 September unveiled 'Tez'- a simple and secure mobile app for digital payments and commerce and the app has seen nearly 1.8 crore gross merchandise volume (GMV) done with over four lakh active users.
Gross merchandise volume or GMV is a term used in online retailing to indicate a total sales dollar value for merchandise sold through a particular marketplace over a certain time frame.
"In the past 24 hours, 1.8 Crore GMV done on Tez already with 410,000 active users," a Google spokesperson told IANS on Tuesday.
Built with the goal of working for everyone in India, Tez is available now for download on Google Play (Android) and the App Store (iOS).
Built on the Indian government-supported Unified Payments Interface (UPI), the newly launched Tez allows users, free of charge, to make small or big payments straight from their bank accounts.
Finance Minister Arun Jaitley on Monday said compulsion of going digital post note ban has become a habit and e-payments will gather pace on account of government initiatives and technology advancement.
He further said high denomination currency circulation has come down in terms of volume after demonetisation of Rs 500 and Rs 1,000 notes that came into effect from November 9 last year.
"Obviously in the month of November, December and January, a lot of people went in for digitisation in terms of mode of payment more out of compulsion rather than finding it a more convenient method to transact, but that compulsion created a habit for many," he noted.
"We reached a peak figure (after the demonetisation), then it marginally slipped and is now bound to pick up again," he said after the launch of mobile app Tez -- a Hindi word which means fast -- for digital payments developed by Google for India.
Various government initiatives to encourage digital transactions are going to make a major advance in that direction, he added.
Referring to the benefits of demonetisation, the finance minister said the high denomination currency in circulation has come down.
"As we stand today, the high denomination currency has squeezed... The squeeze process is going to happen in the natural course of the economy. Second important test is as a consequence of this how much we are able to expand the number of assessees and the tax base, both direct and indirect," he said.
According to the RBI, there were as many 588.2 crore of Rs 500 notes, both old and new in circulation, as of March 31, 2017. As of March 31, 2016, there were 1,570.7 crore Rs 500 notes in circulation.
As many as 328.5 crore pieces of new Rs 2,000 notes were in circulation as on March 31, 2017, the RBI annual report said.
The app was built for India, working on the majority of the country's smartphones, and is available in English and seven Indian languages (Hindi, Bengali, Gujarati, Kannada, Marathi, Tamil and Telugu).
Tez works in partnership with four Banks -- Axis Bank, HDFC Bank, ICICI Bank, and State Bank of India (SBI) -- to facilitate the processing of payments across over 50 UPI- enabled banks.
"Now, the time has come with application as simple as this that what started as compulsion becomes a matter of convenience and eventually a matter of spending habit as far as Indian people are concerned," the finance minister noted.
-With PTI inputs.