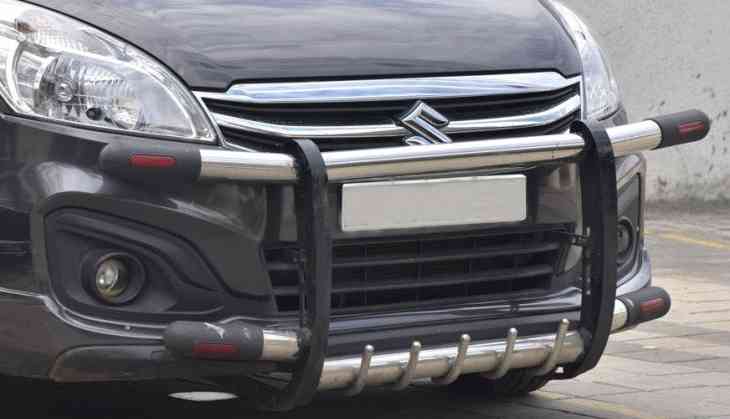 India Bans Fitment Of Bull-bars On Vehicles
Equipping your vehicle with bull-bars has now been banned by the Indian government, declaring its use as a contravention of Section 52 of the Motor Vehicles Act, 1988. The ban was announced by the Ministry of Road Transport and Highways, which authorised states to take strict actions against illegal fitment of bull-bars. The government's notification on bull-bars is considered to be a move to reduce the injury risk to pedestrians and occupants of vehicles in case of a collision.
The bull-bars have been quite popular in the Indian auto market, specially among the SUV (Sports Utility Vehicle) owners. These bull-bars are even offered as an accessory at the point of sale at many showrooms. While some consider it a necessary crash guard that saves the vehicle's body in low-impact collisions, the others take it as a feature that enhances the muscular look of the vehicle.
According to some car safety experts, the bull-bars can reduce the effectiveness of the built-in safety structure of the vehicle. It is suggested that the bull-bars, which are fixed on two points on the vehicle's front structure, are likely to stop the crash energy dispersing through the car's crumple zone, in case of an impact. It can also affect the timing efficiency of the airbags during crashes.
The pedestrian safety has been a cause of concern in India with rising number of pedestrian casualties in road accidents. There have been many car-to-human accidents which have proved lethal for the pedestrians because of the fitment of bull-bars or any such accessory. The car makers around the world have been working on vehicle designs that meet the pedestrian safety standards. Equipping bull-bars on the front of the vehicles can off-set all the benefits of a pedestrian-friendly design. As a result of which, fitment of bull-bars is banned in most countries of the world.