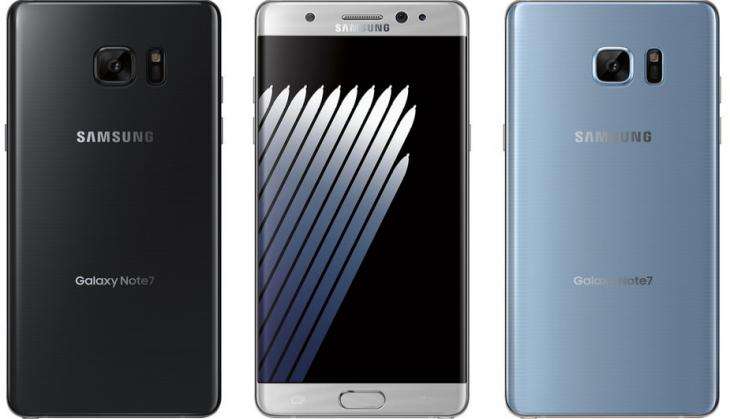 Samsung Electronics today estimated that the crisis over its exploding flagship Galaxy Note 7 smartphones would cost the company more that US $3 billion in lost operating profit over the next two quarters.
Samsung said in a statement that it expected the blow to profit to be in the mid-2 trillion Won range in the October-December period and about 1 trillion Won (US $900 million) for the first quarter of 2017.
The outlook brings to more than US $5 billion the total losses the global smartphone leader has forecast as a result of the overheating issues, after it said on Wednesday it would suffer a US $2.3 billion hit to third-quarter profit.
Samsung's smartphone shipment to India may fall short of target by 4 million units in 2016, hit by global recall and halt in production of its flagship Note 7 smartphone, research firm CMR today said.
The premium device that was meant to compete with Apple Inc's latest iPhones at the top end of the smartphone market had to be scrapped earlier this week less than two months after its launch. To make up for the lost revenue, Samsung said it would expand sales of products such as the Galaxy S7 and S7 edge phones.
"Additionally, the company will focus on enhancing product safety for consumers by making significant changes in its quality assurance processes," the firm said in a statement.
Shares in Samsung, which have fallen about 8% this week on news of the withdrawal of the Note 7, edged up 0.8% in early trade.
The device, which has a chance of overheating and exploding, has been plagued with problems since its launch back in August. After recalling millions of devices thought to have battery issues, Samsung began issuing replacement Note 7s to customers around the world.
However, numerous cases of those replacement units catching fire in the US over the course of the last week prompted Samsung to announce a worldwide recall of all devices and cease production permanently. The company still can't pinpoint the cause of the problem.
--ANI