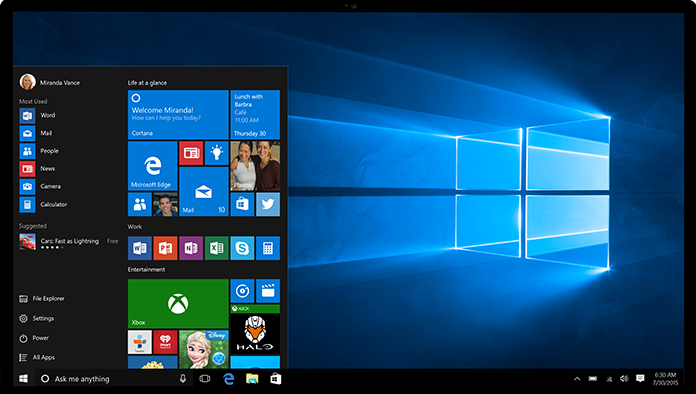 Microsoft's new operating system, Windows 10 debuts today. The technology giant aims to revive its position as the market leader with the new operating system, hoping that more and more people will download it. People buying new PCs and tablets will get Windows 10 pre-installed on their systems.
The operating system is designed in way that it runs on phones, gaming consoles and holographic headsets.
Microsoft says that the experience of Windows 10 will be similar to that of Windows 7, the six-year old operating system which still runs on most of the PCs worldwide. Microsoft has actually combined the best features of the last two versions and offers it on Windows 10.
Now if you are updating to Windows 10, get ready for a big surprise.
Here are the best features of Microsoft Windows 10:
1) The beloved Start menu is back in Windows 10. This is probably the best reason to rejoice with the new operating system. The theme is a bit darker now, if compared to Windows 8. You can resize and customise the Start menu as per your requirements.
2) Microsoft has kept the concept of Live Tiles as in Windows 8, however it has put them inside the Start menu. This actually means that the menu will not eat up your entire screen.
3) Favourites can be easily pinned to the Start menu. Shut Down, Restart and Setting now has an easier access.
4) Microsoft has added a new feature called Task View which is a lot similar to the Mission Control on Mac. This feature displays all the open windows on a single screen so that a user can easily access what he was looking for.
5) Cortana has become smarter. Microsoft's virtual assistant is just like an extension of the Start menu and like in smartphones, you can use the voice search for queries. The visual interface of Cortana is very helpful. Cortana handles local search, weather, news, and other interests.
6) Microsoft also comes with a new browser called Edge. Edge's taskbar icon is quite similar to the Internet Explorer. The browser is simple, clean and easy to use.
Windows 10's built-in apps greatly compliment the operating system. Windows 10 mostly offers what you want and delivers brilliantly.