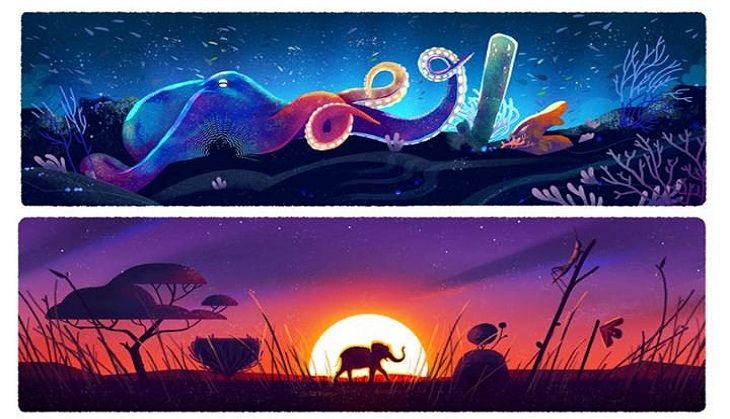 In its 16th year of celebrating Earth Day, the Google doodle for 2016 features illustrations by doodler Sophie Diao. It is a series of five doodles, each representing one of the Earth's five major biomes - the tundra, forest, grasslands, desert, and coral reefs.
The five doodles feature the tundra and polar bear, forest and red fox, grasslands and elephant, desert and tortoise, and aquatic/ocean, coral reef and octopus.



The first Earth Day was celebrated on 22 April, 1970 and was founded by US Senator Gaylord Nelson. The original Earth Day was attended by about 20 million Americans. 
The Earth Day movement went global in 1990 and is now celebrated in over 175 countries across the globe. 22 April was officially designated as the international Earth Day by the United Nations in 2009.
Taking a unique angle every year to create awareness about the planet's environment, this year's doodle format aims to draw focus on the various ecosystems that co-exist, and to sensitise people about the need to conserve our resources.

"In each illustration, you'll find one animal who's been singled out for their 15 minutes of fame," Diao says in her post describing the doodles. 
For the course of the day, each time users visit the Google home page, they will randomly see one of the five doodles.