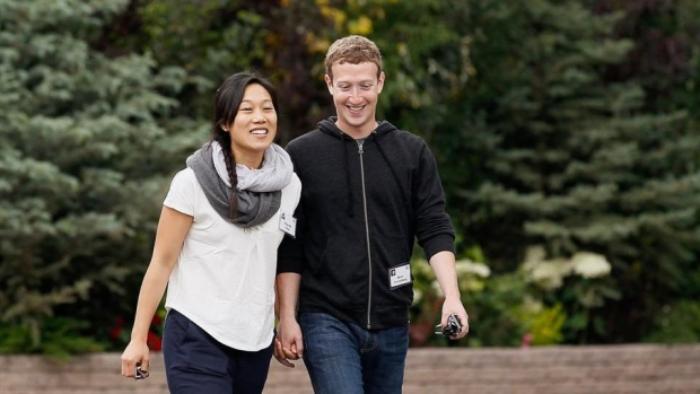 China's billionaires came under pressure from netizens to contribute to their social causes after Facebook CEO Mark Zuckerberg decided to donate the majority of his wealth to a charity initiative set up along with his Chinese-Vietnamese wife Dr Priscilla Chan.
Chinese people have showered Zuckerberg with praise after the 31-year-old magnate announced, following the birth of the couple's daughter, that he would donate 99 percent of his Facebook shares, currently worth about $45 billion (roughly Rs. 2,99,318 crores).
"He's really a special tycoon, living in an ordinary house, wearing ordinary clothes, and finds an ordinary-looking wife," another Weibo user wrote.
Under the hashtag "Zuckerberg donated 99 percent of his shares," the topic had garnered around 5 million views since it was posted yesterday, state-run Global Times said in its report featured on the front page.
Some pointed out the marked contrast between US entrepreneurs and their Chinese counterparts who are accused of being stingy.
"The wisest person donates his money to medical care. I hope the tycoons and celebrities in China can pay more attention to the environment, healthcare and education, buy fewer luxury race cars," one Weibo user wrote.
Others mentioned the reluctance of many of China's wealthy to attend a dinner hosted by Warren Buffett during a 2010 trip to China to promote philanthropy.
China this year has beaten the US for the first time in the number of dollar billionaires whose numbers have climbed to 596 over Americas 537, the most in the world, despite a slowdown in the worlds second-largest economy.
The Communist giant now has the world's largest number of billionaires as their numbers rose sharply as a "staggering" 242 joined the list in the last year, Shanghai-based luxury magazine publisher Hurun Report said in October.
Public pressure on China's rich has grown in recent years, especially after major disasters.
At a speech at Peking University in September, Alibaba founder Jack Ma fleshed out the reasons why he was not donating most of his money like some Western philanthropists.
"Chinese entrepreneurs have limited resources. Their first responsibility should be to use their money for investment, create more jobs and wealth," said Ma, the second highest billionaire of China.
Mao Shoulong, a professor of public administration at the Renmin University of China, said that it's unfair to draw comparisons between Chinese and American philanthropists, since philanthropy has been thriving in the US for more than a century, while it is relatively new in China.
"Chinese entrepreneurs haven't been rich for that long. It might be unacceptable for them to donate most of their wealth which they worked hard for, but their concept will change with time," Mao said.
-PTI