A Chennai journalist has filed an online petition on Change.org, writing to the CEOs of leading telecom companies in India including Bharti Airtel, Vodafone, Aircel, Reliance.
The petition 'Airtel, Aircel, Reliance and Vodafone - Compensate Chennai for failing when our lives were in danger' addresses the CEOs, seeking compensation for failing the people of Chennai when they needed them the most.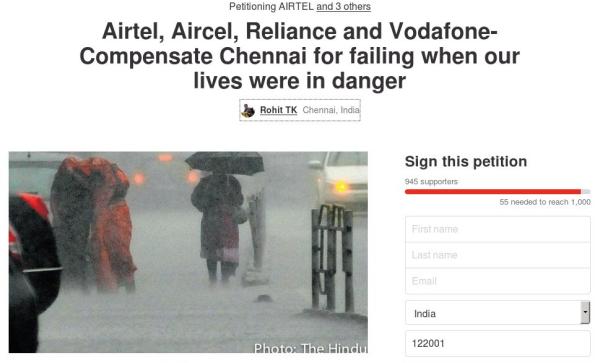 The capital city of Tamil Nadu faced the 'worst rains of the century' last week. Thousands of volunteers came forward to help those affected by the deluge.
Communications blackout
Journalist Rohit TK, who started the petition says, "The scale of the natural calamity was huge and there was no network for at least five days. Patchy connectivity persisted even when the network went up later. However, social media played a crucial role in connecting people. I mostly used Twitter to help out people and coordinate with those affected."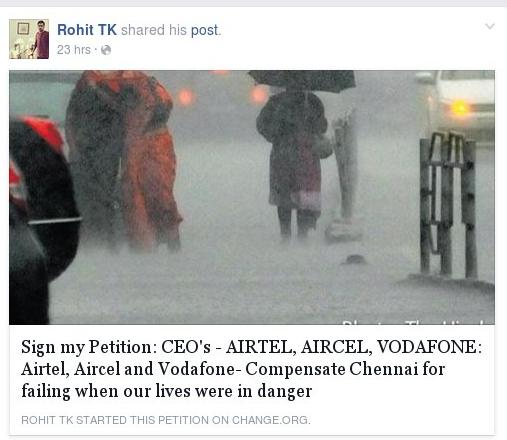 During the crisis there was a communication blackout. Here's what the petition says:
"Anxious relatives in Chennai and elsewhere were left wondering what happened to their near and dear ones who were caught in the floods. Parents couldn't talk to their children who had gone for work. Children living abroad or in other cities in India were unable to find out if their parents had survived the rains or had drowned".
What do the people of Chennai want?
The petition demands that telecom companies must "own up for this absolute failure and take moral responsibility for the disastrous failure/shutting down of the networks."
Rohit adds, "We want these companies to issue a public apology. We are not sure if they will give any monetary compensation, but one way to compensate the people of Chennai is offering at least free talktime."
Many telecom companies were offering free talktime to the people during the floods. However, he asks: "What good is free talktime if there is no network?"