Google, the company we usually use to find the news is suddenly making it. In a blog post today, Google announced it has launched a new company called Alphabet - and, the part that got India abuzz, that an Indian named Sundar Pichai is now its CEO.
Alphabet will essentially be Google's parent holding company, and will have founders Larry Page as CEO and Sergey Brin as President. A slightly 'slimmed down' Google will now have Tamil Nadu born Android chief Sundar as its head, running the search, ads, Google Play, Google Maps, YouTube and Android businesses. In other words, everything we publicly know as Google.
In a Google blog post, Larry Page, CEO of Alphabet, explained how they were clear when they launched Google 11 years ago that they wouldn't become a conventional company. So far, they seem to be on track with that ambition.
But scale brings with it its own challenges. Some of Google's products such as Google Maps, YouTube, Chrome, and Android have over a billion users each today - numbers that look brilliant on bottomlines but make management a challenge. So, he said, it was time to reorganise the company.
"Our company is operating well today, but we think we can make it cleaner and more accountable. So we are creating a new company, called Alphabet (http://abc.xyz). I am really excited to be running Alphabet as CEO with help from my capable partner, Sergey, as President," Page wrote. "Sergey and I are seriously in the business of starting new things. Alphabet will also include our X lab, which incubates new efforts like Wing, our drone delivery effort."
Read more: Sundar Pichai: there's still some stuff you don't know about the new Google CEO
Along with drones, Alphabet will spearhead riskier bets such as self-driving cars, Google Ventures, its venture-capital arm and Google Capital, a late-stage investment unit. Non-risky bets under Alphabet will include Nest (smart household devices), Project Loon (internet-delivering balloons), and Fiber, Google's fast Internet service, among others.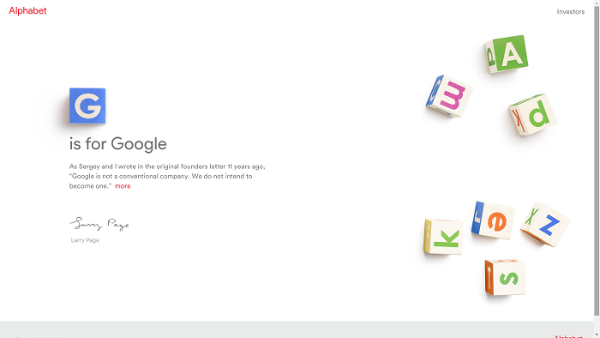 All Google shares will now be traded as shares of the larger holding company Alphabet. It didn't hurt that today's announcement drove the share price up more than four percent.
The move is also a way to recognise Pichai for the job he's pretty much been doing already, without displacing co-founders Brin and Page. Each business in the new holding company will now have its own 'strong CEO,' said Page.
"We liked the name Alphabet because it means a collection of letters that represent language, one of humanity's most important innovations, and is the core of how we index with Google search," Page's blog post continued.
Google said that each Alphabet subsidiary will have its own CEO, reporting to Mr Page himself. This is similar to Warren Buffet's Berkshire Hathaway Inc. Last December, Page said he looked up to Berkshire Hathaway as a model for running a large and complex company.
Over the last few years, Google has been criticised for becoming distracted from its core businesses and pursuing projects like self-driving cars. This restructuring gives the two co-founders a new lease of life and keeps Google innovative. They can now make big bets to add to Alphabet's portfolio and tackle a wide range of products while Pichai drives their core businesses and keeps the revenue pumping. It also provides more financial transparency.
Read more: Beyond Gmail: Google, now Alphabet, owns a bunch of cool ventures you may not know of
The A to Z of Alphabet
The English alphabet has 26 letters. Google may not have a company for each letter but it sure does have at least one product for all 26 letters. After its recent purchase of Boston Dynamics, robotics engineering company, Google, or rather Alphabet, now has 11 official companies under its belt. They are (in alphabetical order), Alphabet (parent company), Boston Dynamics (hasn't undergone a remaining as yet), Calico, Capital, Fibre, Google (largest sub-company), Hooli, Life Sciences, Nest, Ventures and X lab (which includes their drone delivery effort).
Here is one product (some letters have multiple products) for every letter in the English alphabet; Android, Blogger, Cardboard, Drive, Earth, Fibre, Gmail. Hangouts, Images, Jump, Keep, Local, Maps, Nexus, Offers, Play, Q, Refine, Self-driving car, Translate, URL shortner, Voice, Wear, X labs, YouTube and Zagat. In all, Alphabet has 78 products under its name (including Google). Looking at how big the company has gotten over the years, this comes as no surprise. Also the fact that people working at Google can devote 20 per cent of their time working on what they think will most benefit the company.
Who is Sundar Pichai?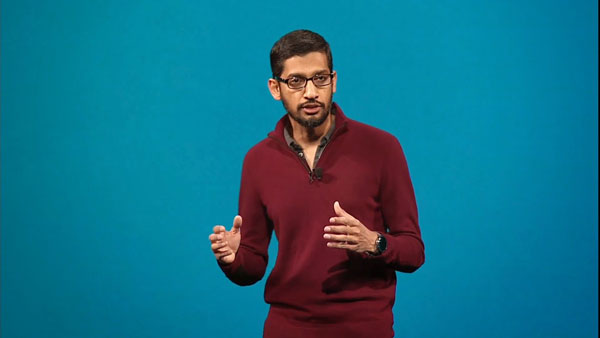 Everyone has heard about the two co-founders of Google, Larry Page and Sergey Brin, but unless you've sat through a three-hour long Google I/O keynote, you won't know much about Sunder Pichai.
Born in Chennai, Tamil Nadu in 1972, Pichai Sundararajan (his birth name), was the son of an electrical engineer. The family was not well off: they lived in a two-room apartment, and Pichai and his younger brother slept on the living room floor.
Pichai was schooled in Chennai where he captained his school's cricket team and won many regional tournaments. According to a 2014 Bloomberg Businessweek profile, the Pichais got their first telephone, a rotary, in 1984, when Sundar was 12 years old. From then on, every time he dialled a number, he would instantly remember it. His numerical recall value was something everyone marvelled at.
He excelled at school and earned a spot at the Indian Institute of Technology, Kharagpur where he studied engineering. After graduating from IIT, he received a scholarship to Stanford University. There he studied material sciences and semiconductor physics.
To get him to Stanford, his father had to take a $1,000 loan - more than his annual salary - for the plane ticket. When Pichai arrived in Stanford, he couldn't afford even a $60 backpack.
Like Google's co-founders, Page and Brin, Pichai dropped out of Stanford's PhD program and moved into a business career.
He worked at Applied Materials before getting an MBA at Wharton school. Then one April Fools' Day, he arrived at Google for an interview. That happened to be the day everyone thought the Gmail launch was a joke. He got the job and was hired as a product manager.
As he was managing various Google search products including the Google toolbar, Pichai wondered what it would be like for Google to have its own browser. The toolbar eventually lead to Google search becoming the default option on Firefox and Internet Explorer browsers. And so Chrome was born, now the most used browser in every country in the world except Japan, most of Africa, Germany and India.
Pichai managed Chrome and Chromebooks, Google's cheap netbooks, and as Chrome became more popular, Pichai was given more responsibilities - Google Drive and Google Maps.
In 2010, Twitter wanted to poach him as Vice President of Product. Presumably, Pichai was given a huge bonus to stay at Google. Three years later, in 2013, Pichai was given Android, the mobile operating system, to manage when Andy Rubin resigned. We all know that Chrome browser and Android operating systems have become hugely successful.
As the rumour mill in Silicon Valley had it, this move by Google was another attempt to keep Pichai from fleeing the company. For now, he is more than happy with his new role.
Read more: What is Alphabet, Google's new company?
Alphabet's presence online
Alphabet, the company that has a whole lot of cash, is missing online. For starters, one Chris Andrikanich has the Twitter handle @alphabet. His twitter profile reads, "Dad. Husband. Self-proclaimed geek who fires off regular gibberish, gobbledy-gook about sports, tech, CLE, and whatever..."
Not very Google-like, is it?
@alphabetinc is a suspended account. @abcxyz is an inactive account. @AlphabetlNC (with a lower case L and not 'i') seems to be the handle of the newly formed Google parent company.
German-based car company BMW owns Alphabet.com, a company founded in 1997.
On Facebook, the Alphabet verified page, has more than 8,000 likes, but as its discription says, it has nothing to do with Google. "Alphabet is a leading provider of Business Mobility in Europe and has gathered extensive knowledge of international fleet management and leasing."
So do you now change 'Google it!' to 'Alphabet it!'?
Not at all. You can still Google everything including Catch.