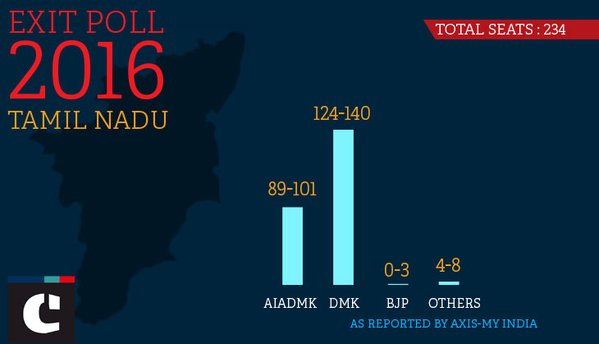 A day after Tamil Nadu Chief Minister Jayalalithaa exuded confidence that AIADMK would return to power, exit polls paint a mixed picture for her.
According to Times Now-CVoter, AIADMK and its alliance parties together will get 139 seats while DMK will get 78 seats. BJP scores a duck in the state while other parties are predicted take away 17 of the 234 seats.
According to Axis My India-TV Today, DMK will manage a wafer-thin majority of 106-120. Its ally Congress might muster 18-20 seats and Amma's AIADMK might manage 89-101.
According to Chanakya:
AIADMK - 90
DMK - 140
Others - 4
BJP - 0