As I got out of the Kolkata airport and into an Uber cab on a hot and humid Friday morning, the buzz was palpable. India and Pakistan were about to go to war again in less than 36 hours, and the question on everyone's minds seem to be the same - "bhai, ek ticket milegi kya? (brother, can you get me a ticket?)".
My cab driver was one of them. He had tried his best but didn't succeed. He has been driving cabs around Kolkata for the last 15-20 years, but had never wanted to go to Eden Gardens more than on Saturday evening, when the arch-rivals square off in a crucial Super10 game.
"Kam se kam India ko to jita ke aana (At least ensure that India wins)," he told me when he got to know that I would be in the stadium.
Read: Who will blink? It's India's streak vs Pakistan's perfect record at Eden
He echoed just what every Indian fan feels ahead of every game against Pakistan at any World Cup - win or lose in the tournament, victory against Pakistan is non-negotiable.
Over the next 45 minutes, we spoke about Kolkata, its people, its culinary delights and sights. But soon enough, the conversation switched to cricket again - to the composition of the Indian team and how the Pakistanis looked formidable.
"Dhoni should've retired last year. India can't win another World Cup with him," said my cabbie
"Dhoni should have retired last year itself. His time is over. That Chennai Super Kinds scandal was pretty bad. Virat Kohli should also captain the T20 side. With Dhoni, India cannot win any more World Cups," he told me matter-of-factly.
The city has seen an influx of more tourists than usual, and wherever the eye went, people were proudly sporting India caps. In fact, a few people on my flight didn't have tickets to the game, but flew to Kolkata anyway - at worst, they could soak in the atmosphere.
Do you have an extra ticket?
But the difference between the buzz at the airport and in the rest of the city was stark. Walking around the streets, you would scarcely believe a match of this magnitude was about to take place. Although I must admit that I do not understand Bengali, but cricket has a universally intelligible language - at the very least, one would understand if names like Dhoni, Kohli or Afridi were mentioned.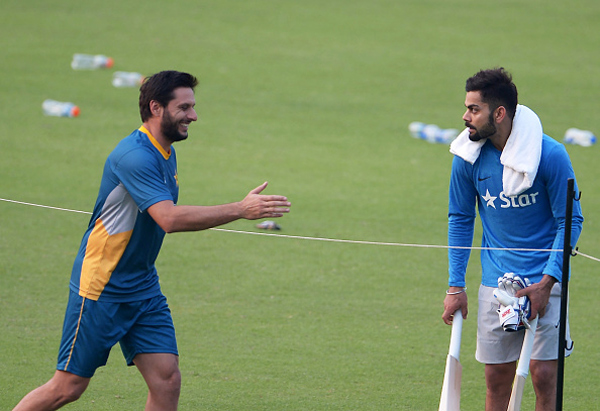 I went to the Eden Gardens to pick up my tickets, and that was where the 'extra ticket' queries resumed. The stadium looked spectacular with its lights on, and all the way to and from the nearby Esplanade metro station, people were discussing their predictions for the match.
The predictions were split 50-50, mostly thanks to India's insipid showing against New Zealand, and Pakistan's inspired victory over Bangladesh.
Wherever I went, the only question on people's lips was: "Brother, do you have an extra ticket?"
As I walked in to Moulin Rouge restaurant on Park Street, which was more than half empty, I sat down and started watching England bat against the South Africans. One person, in his mid-40s and sporting an India cap, told me he tried three different contacts for tickets - but to no avail.
The people at the table next to me saw the envelope and figured out that I wasn't a local. They struck up a conversation, and it turned out they were from Chennai but were not in town for the game. But guess what? Five minutes later, they too started asking about tickets. And what's worse, they started pestering me, after finding out I was a journalist and assuming I must have contacts.
Here comes the rain
As it started raining on the morning of the match, all the talk was about whether or not the it would stop in time for the game. From the balcony I was sitting on, I overheard scores of people walking by, talking about the match. Dhoni's name could be heard quite a few times, as well as Afridi's.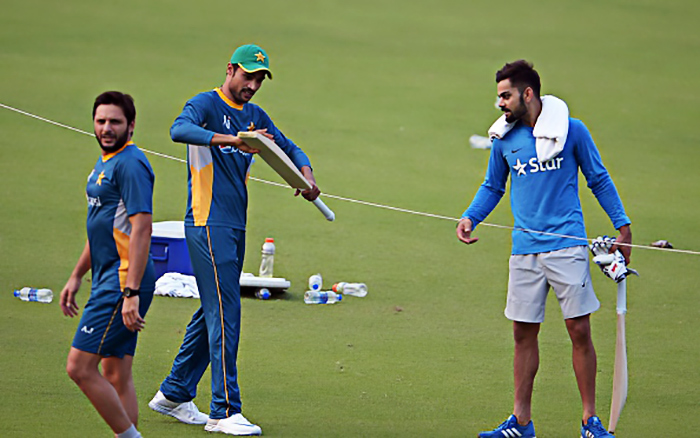 The all-important words came from a Punjabi restaurant owner on the corner of the street next to the guest house. I had left my key there and when I came back to collect them, he asked if I was here for the match.
Also read- World T20: India not allowing Pak officials to watch matches, alleges Islamabad
When I said yes, hoping there would be no more ticket queries, he said: "Paahji, look. This is India. Pakistan have never defeated us in a World Cup match. Inside Eden Gardens, the fans are the best. You go to the stadium, see the match and scream for India. Because, whatever happens, India will not return without defeating Pakistan."
The sun came out for a brief period in the afternoon, before it started pouring again. Just hours before the match, every fan in Kolkata was nervous. But there's still the hope - if at all the match goes ahead, India will not return without defeating Pakistan.
Edited by Shreyas Sharma
More in Catch:
After a Jarawa baby's murder, fear clutches illicit visitors
Kapoor and Sons movie review: giant cinematic leap for modern Indian families
Power game: is the BJP about to break off alliance with the PDP?