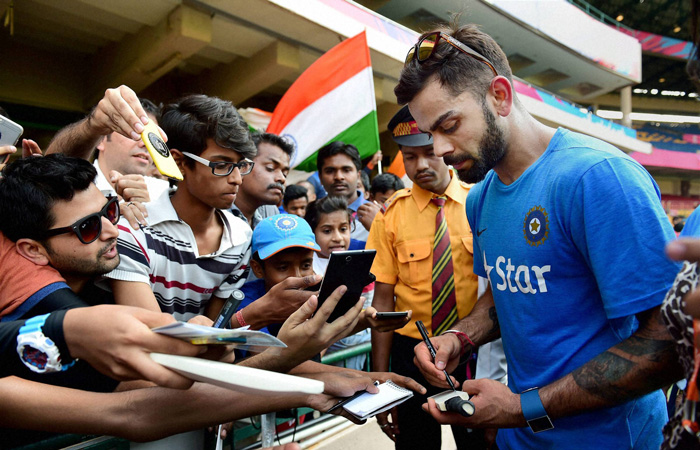 It's probably a bad time to be writing this article, given the euphoria surrounding Virat Kohli and the Indian team's progress to the ICC World Twenty20 semi-finals. I hate to rain on this parade.
However, what if Kohli fails in the semi-finals against the West Indies, or the final against whoever wins the New Zealand-England semi-final? Would India have a serious chance at victory then?
On paper, the team is chock-full of match-winners. Rohit Sharma, Shikhar Dhawan, Suresh Raina, Yuvraj Singh, skipper MS Dhoni - they can all turn matches around single-handedly with bat in hand. The bowling is the strongest it has looked in a while, with the 37-year-old Ashish Nehra enjoying a second wind and R Ashwin leading the way among the spinners.
Also read - Virat Kohli shuts all Anushka haters up with a strongly worded Instagram post
Tendulkar's genius with Dravid's persistence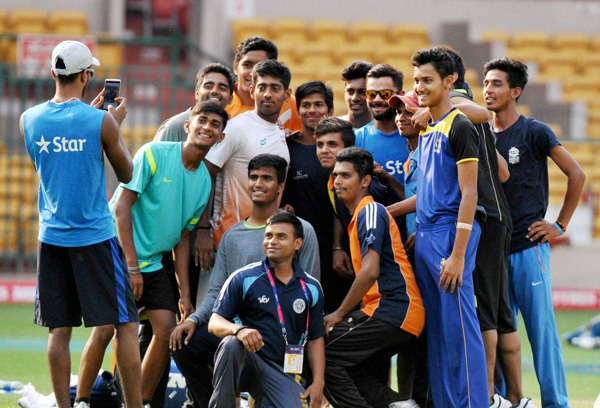 First, the good news. Kohli shows no signs of slowing down. His mastery over the chase will go down as one of the greatest in history, and at 27, he has some of his best years ahead of him.
His innings against Australia in Mohali in a win-or-go-home game was mesmerising. It was a familiar situation - three of the top four batsmen failed, Kohli and Yuvraj strung together a partnership, then Kohli and Dhoni took over and finished the game.
But the difference this time was the pressure. The same sort of pressure that generations of Indian cricketers have succumbed to. But Kohli feeds off the pressure. Somehow, he can just soak it up. It's almost as if the genius of Tendulkar and the persistence of Dravid were mixed in a test tube to give birth to the perfect batsman.
I sat watching the match with my 92-year-old die-hard India fan of a grandmother. I was losing hope with the required run-rate climbing above 12; she kept insisting: "Keep the faith, Virat is still there."
With every hard-run two, every little gap that he perfectly pierced, every boundary he hit off James Faulkner and Nathan Coulter-Nile, Kohli seemed more and more superhuman. How on earth could he make 55 off 22 balls look so easy? And there were no bludgeons, no slogs, not a single ugly swipe - just simple cricketing shots, placed to perfection with a last split-second flick of the wrists.
Kohli feeds off pressure. It's almost as if he has Sachin's genius and Dravid's persistence
By the time Dhoni hit the winning boundary and Kohli sank to his knees, overwhelmed, I was lost for words. All I could think of was 'wow. wow.wow'. Not since Tendulkar's resurgence in 2009-10 and some of AB de Villiers's ingenuity have I been rendered speechless.
Let the record show: I don't like Virat Kohli. Rather, I didn't. I hated his foul-mouthed celebrations. I hated his upstart persona. But in my time covering the Indian cricket team in various countries, I rarely came across anyone (except Dravid) who took net practice as seriously.
Today, that net practice has paid off. Kohli is a true master of the game, and he has made a believer out of this cynic.
Who will pick up the slack?
However, that brings me back to my original point. Tendulkar was not God. Neither is Kohli. Heck, Bradman was human. And human beings fail, from time to time. Call it Murphy's law, the law of averages or what you will. what happens the day Kohli is back in the hut with the job half done?
My grandmother's words are still ringing in my ears: "Keep the faith. Virat is still there."
More than 20 years ago, my late grandfather used to say: "Don't worry, Sachin is still there."
And then, if and when Sachin got out, it was time to turn off the TV and find a way to get over the anger and disappointment. For, when Sachin went, so did India's chances.
Let's face it: this is a one-man batting team, like India before Ganguly, Dravid and Laxman gave it a backbone.
Would you ever rely on Rohit Sharma to win you a game while chasing? He's a flat-track bully, who will get you the runs in a no-pressure, batting first scenario.
Dhawan? He just doesn't look very reassuring, does he? He just finds new ways to get out while pushing at the ball with hard hands.
Raina? One short ball, and he's done. One pitched-up ball, and he's done. He has never been convincing as a proper batsman.
Yuvraj? He was a super batsman. He's a shell of his former self now. There's still the odd spark, but like Sehwag a couple of years ago, you know he's struggling against age and slowing reflexes.
That leaves Dhoni - the Mohammad Azharuddin to Kohli's Tendulkar. The only other specialist batsman in the side today who looks capable of taking the fight to the opposition, no matter the situation.
India's first game against New Zealand was a case in point - the bowlers did their job, the fielders did theirs, but when it came to batting, it was Kohli, Dhoni and zilch. Nada. Big fat zero.
This team looks really strong on paper, especially against a West Indies team that lost a low-scoring thriller to minnows Afghanistan on Sunday.
But imagine this scenario - there's a Chris Gayle special at Wankhede Stadium in Mumbai. India have about 180 to chase to make the final. And Kohli falls cheaply. Will you not be tempted to switch channels?
And that's the problem with this Indian team. They've brought back the 1990s. It's a one-man show all over again.
There, I said it. Now go prove me wrong in Mumbai (and possibly Kolkata).
More in Catch - Virat Kohli: 5 trademark shots that define his prowess in limited-overs cricket
Kohli steps out of Tendulkar's shadow by making pressure his best friend