Twitter Commotion: Ex-England Captain's pics resembled Russian Prez Vladimir Putin
In picture England Captain Nasser Hussain
On Monday Twitterities were left in stitches and many jaw-dropped seeing the picture of the former England Captain Nasser Hussain shared by England wicketkeeper-batsman, Jos Buttler. In the picture, the former captain was taking down the street, wearing a white towel.
The picture instantly hit on Twitter as fans came in hordes. While some disbelief, others confused the cricketer with Russian President Vladimir Putin, taking a jibe on the former captain.
Presently England is currently on a New Zealand tour where they are playing five ODIs and two Tests against the host country.
As the confusion and disbelief continue, it isn't certain if it's an old or new picture. While Buttler in a playful mood captioned the picture, "Does anyone recognise this former England captain?"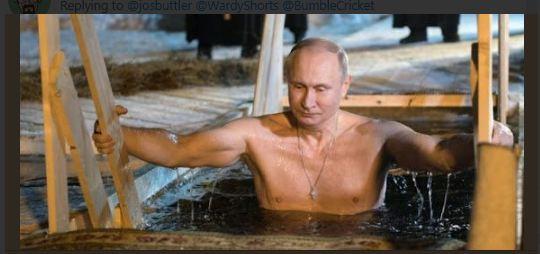 This post came after they were denied a win in the first ODI and speaking to one of the well-known agency, Hussain criticised England captain Eoin Morgan for making some poor decision during the chase. He even commented, "There were too many singles and at no stage did Morgan bring anyone in,"
Bore a lot of resemblance to Putin.


Putin's Doppelganger
Unrecognised Captain