The Oldstralian Open: Experience trumps youth as oldies made a golden return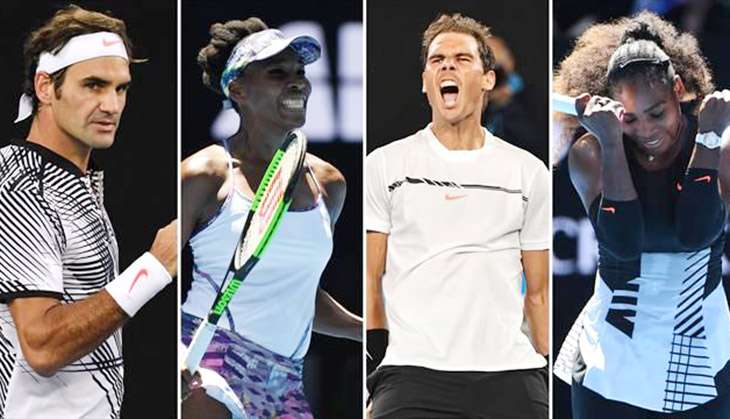 Serena Williams versus Venus Williams. Roger Federer versus Rafael Nadal.
These are the finals of the Australian Open, and, just in case you were wondering, you haven't travelled 10 years back in time.
Instead, tennis' veterans have turned back the clock to set up mouthwatering Australian Open finals that will dominate television viewing across the globe this weekend.
Serena is 35. Venus, 36. Federer, 35, and Nadal, 30. In the other finals, the Bryan twins are 38, Andrea Hlavackova is 30, both Shuai Peng and Bethanie Mattek-Sands are 31, while Abigail Spears is 35. Juan Sebastian Cabal and Sania Mirza clock in at 30, while Mirza's doubles partner Ivan Dodig is 32.
In fact, of the 16 finalists at this weekend's finals, 13 players are above the age of 30.
Sister Act
It was 8 September 2001, three days before the day the Twin Towers collapsed. Bernie Sanders was celebrating his 60th birthday and Jennifer Lopez was celebrating a Billboard's No. 1 song. George Bush was US president.

That was the day Venus and Serena Williams played in their first Grand Slam final against each other. Since then they've played in eight Grand Slam finals together, the 2017 Australian Open will be their ninth summit clash against each other. Their last was at the 2009 Wimbledon Championships.

All said, they've played each other 27 times, Serena winning 17 of them.

The Williams sisters first met in a professional event back during the second round of the Australian Open in 1998. That match was won 7-6(4) 6-1 by Venus.

Over 19 years have passed since that game, other athletes have come and gone, but the Williams sisters have remained timeless.
Fedal once more
In 2001, Federer was just 19.
He'd only just announced himself as a real contender, reaching the quarter finals of both Wimbledon (beating Sampras) and Roland Garros. Rafael Nadal, then only 15, was still some 8 months shy of his first ATP match.
Since then, they've both had their own indomitable stints at the top of the tennis world.
Federer has notched up a staggering 88 career single titles, including 17 Grand Slam wins.
Nadal hasn't been left behind either. The tenacious Spaniard has 69 career singles titles, 14 of them being Grand Slams.
Their rivalry as well is the stuff of legends. Rafael Nadal was the world number 2 for 160 consecutive weeks before he dethroned Federer as the world's top singles player. They've played each other 34 times starting over a decade ago in 2004. During this rivalry they went head to head in eight Grand Slam finals, with Nadal winning six. Four of those were at Roland Garros.
The last time Federer and Nadal met in a Grand Slam final, though, was over five years ago at Roland Garros in 2011. Nadal won that game in four sets: 7-5, 7-6 (7-3), 5-7, 6-1. The match spanned the better part of 4 hours. On Sunday, the old masters will meet again to enthrall the world.
Twin titans
The Bryan twins are arguably the best tennis doubles team of all time, having reached a Grand Slam final each and every year since 2003. Together, they've won 16 Grand Slam doubles titles, but have dropped off in recent years as age has caught up with them. Their last Grand Slam victory was the US Open back in 2014.
The twins are now going to play in their 10th Australian Open final. If the Bryan brothers win on Saturday, they will equal John Newcombe's 17 Grand Slam doubles titles. Currently, they are tied with Australians Todd Woodbridge and Roy Emerson on 16.
During the 2007 Australian Open, 2008 US Open and at the 2010 Australian Open, the Bryan Brothers have captured the title alongside singles wins for both Federer and Serena.
The other vets
This is Abigail Spears' first ever Australian Open mixed doubles final. She's never won a Grand Slam in her life.
Ivan Dodig has won a French Open doubles title, his only Grand Slam, back in 2015.
Sania Mirza is a celebrated tennis player in India. A former singles player, Mirza has thrived in doubles and mixed doubles with a number of partners. She lost in the second round of the women's doubles in the 2017 Australian Open but has a chance at the title in the mixed doubles final.
Each of these players, including the others mentioned above have been playing for quite some time. A lot has changed since they both turned pro and to see them all at the summit at the 2017 Australian Open is nothing short of extraordinary.
The Throwback Open
Never in the history of Grand Slam tennis has there been a single edition in which 13 of the 16 finalists were over 30. Until now. In fact, 2008 was the last time a Grand Slam semi-final featured Serena Williams, Venus Williams, Roger Federer and Rafael Nadal.
For Venus, it's been more than 7 years and thirty Grand Slams since she last made a major final. Ken Rosewall, the oldest man ever to win a major (at 37), talked about Venus' extraordinary run at the Australian Open on local Australian television: "Most people would be at home, sitting on their sofa. But Venus is competing at the very highest level in the world, in the most physically demanding of sports". To top it off, Venus had to battle with Sjogren Syndrome, "an incurable autoimmune disease that often causes joint pain and unpredictable fatigue".
To have a Williams sisters clash and a Federer-Nadal final is the stuff of dreams. That it has happened in 2017 is something utterly unbelievable.
In case you ever doubted it, you can rest assured that form may be temporary, but class is, most certainly, timeless.