Shubham Jaglan: from milkman's son to junior golf world champ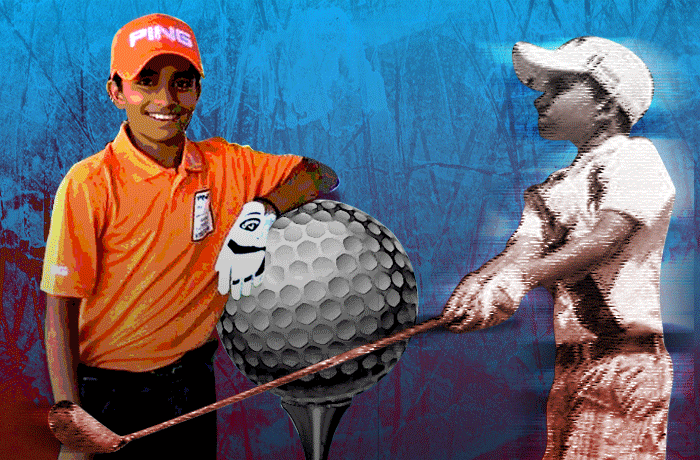 Humble beginnings
Shubham Jaglan hails from Israna village in Haryana
The 10-year-old\'s dad Jagpal was a milkman
Shubham developed a passion for golf by watching videos of old tournaments
An NRI\'s academy nearby was his first training ground
He was later helped by the Golf Foundation and honed his skills at the Delhi Golf Club
Big achievement
Shubham won the Junior World Golf Championship in San Diego last week
He beat a field of 117 players aged nine and 10
Old golf tournaments were Shubham Jaglan's best teachers. He would spend hours and hours rewinding them to understand every frame, every intricacy of the golf swing, the ball flight and the putts. Sometimes this would be on the internet and sometimes on tapes.
But the world outside his 21-inch screen was very different. There were pungent smelling mustard fields with buffaloes and sheds. His home; a modest two-room structure in a small village called Israna in Haryana.
The milkman's son
Born to a milkman, Shubham was building a serious interest in golf, a sport almost unheard of by most in his village.
Five years on, now at the age of 10, he won the Junior World Golf Championship in San Diego last week, from amongst a field of 117 players between nine and 10 years of age.
"I have finally done it! I have won one of the most prestigious tournaments in junior golf," he exclaims.
Shubham's story is dotted with sweet struggles, disappointments and grit, but his determination and hope never let him down. His father Jagpal, who now proudly caddies for his son, has moved to the US full-time to promote his son's game and support his passion.
For them the journey from Israna to America has been a very satisfying one, given Shubham's dominance - over 110 titles in his three-year career so far. Among the most prominent ones have been the World Masters of Junior Golf in 2014, and now the Junior World Golf Championship.
"It means a lot to me and my dad especially, who was with me 24x7 and worked harder than I did."
The NRI's deserted academy
Jagpal had no money to get Shubham trained in golf, but he was intrigued by his dedication and interest. Shubham practised initially at a golf academy set up by an NRI near his village.
For most people, it was an alien place. It was forever empty, remembers Shubham.
"No one knew of golf in my village Israna until Kapoor Singh, who lives in the US, opened a golf academy there. My grandfather, Ishwar Singh Jaglan, introduced me to this academy and then my family knew what golf is. Later, my dad took me to the academy, which merely existed for two months," he says.
Soon, it shut down for lack of business, but that didn't put a lid on Shubham's aspirations. His dad explored a course near Karnal but eventually had to move lock, stock and barrel to Delhi as Shubham was playing well and needed to tee off on the international scene.
Arrival on the hallowed greens
This is when Amit Luthra and Nonita Lall of the Golf Foundation helped him out. Jaglan had heard of Luthra - an Asian games gold medallist who supports up-and-coming golfers - and he decided to go and share Shubham's game with him.
Convincing older folk about letting a small boy play and practise on Central Delhi's most coveted patch of green, the Delhi Golf Club, wasn't simple. It was even harder to convince consulates to given him a visa to go play in the USA, says Luthra, Shubham's biggest supporter.
Shubham has won over 110 titles in his three-year career so far, including the World Masters of Junior Golf
But with dedication and push, authorities relented and let the young boy play golf and wow audiences.
Despite all those hiccups, Shubham has made global headlines consistently. "All the credit goes to my family, the Delhi Golf Club for giving me facilities to play and practise, The Golf Foundation for giving me everything that I needed and to my coach Nonita Lall Qureshi, who pushed my game and mind to this level and got me all the way to winning this prestigious tournament."
Golf legend Gary Player has played three nine-hole rounds with this young achiever and continues to talk about his spectacular story at global events. What else could be a better testimonial for India's golfers?
Not an elite sport by any means
Perhaps Shubham's story will be convince people that, indeed, golf in India is far from elite.
Shubham went against the grain. He dreamt big in a sport that was a world away from the wrestling his village is famous for. Now he is the young icon - all of 10, and being teased and touted in his village as 'Golf ka Dara Singh'.
There are several young children like Shubham, who are trying to play different sports every day in the hope of excelling enough to grow and make a career.
For golf alone, there is a desperate need for people to help shed its 'elite' tag and change the perception. Several of India's top golfers have struggled to the top, having been caddies or forecaddies, greenskeepers or their children, or simply not privileged to afford any sport.
Today, they are world renowned names like SSP Chawrasia, Rashid Khan and S Chikkarangappa.
There are other stories of children growing to love the game despite not having any background or access to the sport.
Shubham's headline-worthy performance and wide coverage should force the government to think about paying attention to golf basics and junior participation to promote the sport and alter the cliched opinion about what is among the fastest growing sports in the country today.