Rio Olympics hero Sakshi Malik: 'Hope my success can help women follow their dreams'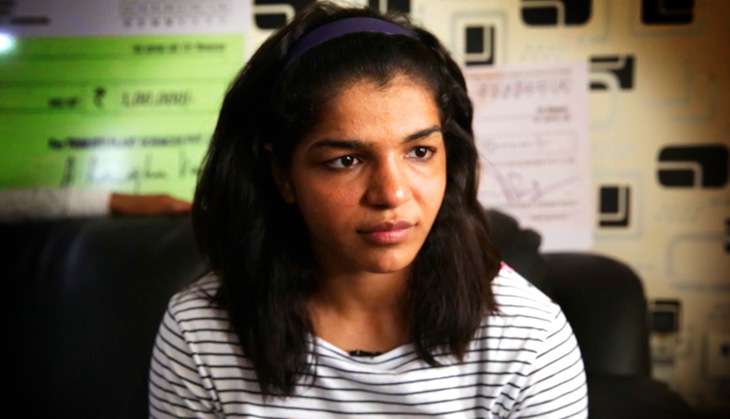 Photo: Manas Gurung/Catch News
It's been a few days since Sakshi Malik arrived home to a hero's welcome after her bronze medal-winning exploits in women's wrestling at the Rio Olympics. But ever since she came back to India, she hasn't had a moment to rest, relax and enjoy her success.
Sakshi has been swamped by congratulations - whether verbal, in cash or in kind. The media has suddenly found itself a new star, and cannot get enough of her. Neither can government agencies and the private sector, who want to bask in Sakshi's glory.
Then, on 29 August, National Sports Day, President Pranab Mukherjee awarded her the top sporting honour in the country, the Rajiv Gandhi Khel Ratna. In the meantime, she was named brand ambassador for the 'Beti Bachao, Beti Padhao' campaign by Haryana Chief Minister Manohar Lal Khattar.
PTI photo
So, what has life been like for Sakshi since she opened India's account at the Rio Olympics with that precious bronze on 18 August?
A festive atmosphere at home
To hear about it from the horse's mouth, Catch travelled to Sakshi's home in Rohtak, Haryana. On the way, giant posters dotted the roads, screaming 'Nation's pride, Sakshi Malik' and 'Congratulations to Rohtak's own Olympic medallist'.
Her home itself bore testimony to the giant celebrations that had taken place the previous day. The exterior of the house was rather calm and quiet, though the decorations it bore were seemed nothing short of a lavish celebrity wedding.
Inside, however, there was a different story. The house was abuzz with chatter, and Sakshi's relatives and neighbours were clumped together in different parts of the house.
Tea was being brewed constantly, and being supplied to the sea of mediapersons and visitors at five-minute intervals.
A huge table was cluttered with neglected bouquets and a tower of unopened boxes of sweets. Balloons in the colours of the Indian tricolour, some of them deflated, hung from every inch of the house.
But behind all this glitz lay the real story of Sakshi Malik, wrestling prodigy, encapsulated in photographs from national-level wrestling tournaments that she had won from a young age. A story of sweat, a story of hard work, and a story of winning against all odds.
Uncomfortable with the hullabulloo
She sat nervously in the living room, surrounded by her parents, her coach and journalists who grew impatient by the minute. Two things struck the eye when it came to Sakshi's face - the innocence in her eyes and a seeming discomfort with this hullabulloo around her.
Between getting selfies clicked with visitors, answering questions and being whisked away by relatives to meet more relatives and friends, she seemed exhausted - and almost flustered. Could you blame her?