Narendra Modi reveals his favorite sport from childhood and its not cricket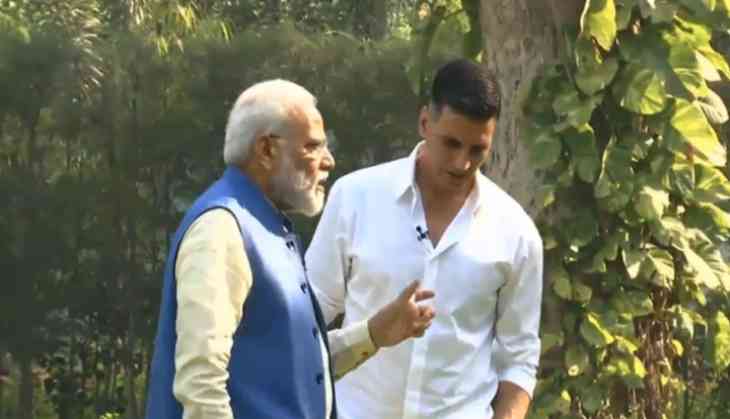 Narendra Modi-Akshay Kumar
Prime Minister Narendra Modi is being interviewed by Bollywood star Akshay Kumar. The interview is taking place at Modi's official residence at Lok Kalyan Marg, New Delhi. This is not the first time that the prime minister robed in a famous celebrity to interview him, he was interviewed by Prasoon Joshi during his trip to United Kingdom.
Akshay Kumar asked him a question about his favorite sport to which Modi replied that when I attended Sangh Shakhas (RSS wing) I got an exposure to scientific games that taught me team spirit. To ensure we grow in life in general, we focused on sports where we played as a team that also taught me leadership skills.
When Akshay asked him whether he played Gilli Danda in his childhood to which he replied, yes I did. Gilli Danda is an ancient amateur sport originated in the Indian sub-continent and played mostly in the rural areas. The game consists for two sticks, large one is called danda, which is used to hit the smaller one called gilli.
Modi said, "I liked playing team games instead of individual games as they develop you in a different way, on a personal level. I have played 'gilli danda' as well. I used to wash the clothes of my entire family. So I used to be at the pond and used to go for swimming and this is probably how I toned my body."
Modi also shared memories from his childhood and his younger days. He revealed how he controls his anger and why he is detached with his family. Modi also said that Mamata Banerjee, his political rival and chief minister of West Bengal sends him Kurtas and Bengali sweets. They have political and ideological differences but they are good friends away from it.
The interview was telecast a day after he attacked Mamata Banerjee at a public rally in West Bengal. The interview is a non-political project which is also being termed as a PR exercise by his critics as it is being done at the time of on going Lok Sabha elections in India.
Also read: Mamta Didi sends kurtas, sweets to me: PM Narendra Modi to Akshay Kumar