Kohli and Dhoni: A study in contrasts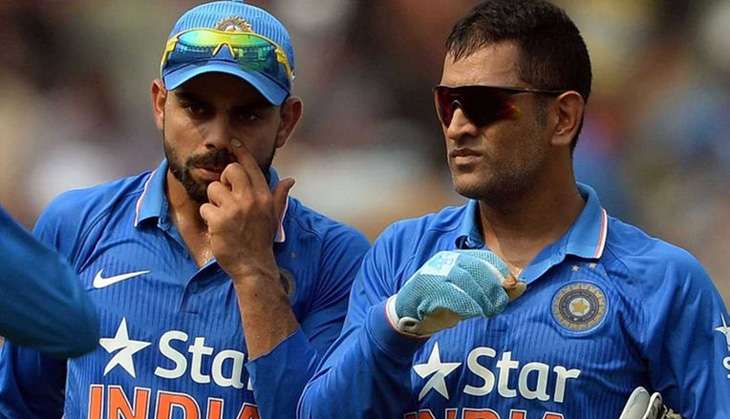 The first memory we have of Mahendra Singh Dhoni arriving on the international scene is that he had long hair. Unfairly, this was made fun of-he was seen as the quintessential small town boy who didn't know much about cool haircuts, an impression he set about correcting with a series of changing hairstyles, from mohawk to Dev Anand.
Dhoni and Virat Kohli are two very different characters. Cricket is a game that values the word 'temperament'. Your temperament, more than your build, affects how you play your game, its tone and style.
Two sides of the same coin
Both Dhoni and Kohli are busy, aggressive players. They like to keep the scorecard ticking and resist going into shells, no matter what the circumstances. Aggression can be shown in different ways-and both have a contrasting manner in which they express themselves.
Dhoni was not easily flustered. He was good at hiding emotions and maintaining a facade. Kohli, on the other hand, is more animated. But having an excitable nature doesn't mean that one's equilibrium is upset. It's a matter of temperament.
Also read -Already having more interactions on the field with Virat Kohli: MS Dhoni
If Dhoni was Robert de Niro, not saying much, letting his presence do the talking, Kohli, oddly, reminds me of Woody Allen, short, voluble and always up for a bit of bit of back-chat.
The back-chat part varies from player to player. It's like life. People will say nasty things to try and ruffle you. You have two options: you either ignore that person and what he's saying, and get on with it. Or you say something nasty back. The latter works for those who can do it without letting it affect their game. If Rahul Dravid or Dhoni would only let the bat do the talking, Kohli's attitude is to do both: the assault comes equally from mouth and bat.
Like rappers, like Eminem, Kohli is more than willing to take on the haters. It goads him to do better. It's a sign of unshakeable self-belief. The sledger needs to be put in his place and Kohli doesn't hold back from doing so.
Dhoni and Kohli have different approaches to pacing the team's innings. In one day internationals, Dhoni was quite happy to contain in the middle overs. Kohli, according to reports, is keener to push for wickets between the 20th and 40th overs.
While chasing, Dhoni, considered one of the best finishers in the ODI format, takes his time. At times, too much time. As long as there are wickets in hand, he's content to slow things down. On plenty of occasions, Dhoni left the hefty hitting for the climax. He never seems to be in any hurry, which can be disconcerting to the opposition. And more often than not, he'd pull it off too. Of the last or the second last ball. That's what marked Dhoni out as Captain Cool. He was happy to take on the pressure and backed himself.
If one draws an exam analogy, Dhoni, when chasing, reminds you of a student who gets really serious about finishing the syllabus when it's two weeks from the examination. One knows he will pull out a couple of all nighters and crack the question paper. Sticking with the same analogy, Kohli is the guy who finishes his syllabus in the summer vacations. The rest of the year is about honing and refining what you already know. Kohli is always reaching for the next level; he's all about maximising potential and testing himself.
There are contrasts in their choice of life partners too. Dhoni settled for a quiet marriage; Virat's high profile love life, like a Premier League footballer's, is always in the news. Nothing affects his game. The rest we shouldn't be interested in, but that's the nature of the media beast and Kohli handles it in his own blow-hot blow-cold style.
Management guru vs prodigy
Both the players are respected for different reasons: Dhoni, more as a leader of men, a management guru. At the best of times, Dhoni is not the most aesthetically pleasing player to watch but he's very effective. He's desi jugaad in all its glory. He will accelerate at the right time or perish. His fitness was superb-can't remember too many times he was out of the team with an injury. He is, at best, a competent wicket-keeper, though lightening fast with his stumpings, a skill that often got overshadowed since all the emphasis was on Dhoni -- the captain.
Kohli's singular talent and the way he's harnessed it is what got him respect. The captaincy came later. Dhoni took on a job no one wanted and earned the respect as captain as he went along: the way he would follow his contrarian gut, the manner in which he handled the senior players, the new players that he backed without fear.
Also read -Dhoni can experiment more with batting now: Indian captain Virat Kohli
Dhoni has presided over the transition of the team to a new generation and he has done so with finesse, retiring at the right times from different formats, giving Kohli time to ease into the role. Though knowing the character Kohli is, it looked like he was ready for the transition even a year back.
There's a lot fizzing in Kohli's mind at any given moment, and as the proven master of all formats, a rare achievement, the more freedom and responsibility you give him, the more he will thrive.
VVS Laxman, among others, has spoken of Dhoni's balanced view of the importance of cricket in his personal life. Dhoni doesn't eat breathe and live cricket. He drifted into cricket. When he's not playing a series, he's off-limits to the team. He indulges in his hobbies and goes on bike rides with non-cricketing Ranchi friends.
With Kohli, cricket is his world. He was born to play the game. Cricket's on his mind, all the time. One thinks of him as someone who would be keen on the history of the game and spend time watching recordings of classic matches. Both have contrasting styles and temperaments, but are equally concerned about the legacy of Indian cricket and where it's headed.
The end of an era
In the last two years or so, Dhoni sounded more and more uncomfortable in the post-match press conferences; he'd lapse into long-winded monologues about what'd gone wrong: 'Now if you look at the 33rd over, if x had survived for another ten balls and scored a boundary, then the result would have been different.' At times he'd do what he never did earlier-he'd blame players, not by name, but making it pretty obvious who he was referring to, especially his fast bowlers.
Also read - MS Dhoni saved Virat Kohli from being dropped many times
In a clip that went viral last year in April, he got into a long-winded conversation with an Australian journalist who'd asked him about his retirement plans. "Will you continue playing after this tournament," asked the journalist. "Come here, let's have some fun," replied an irritated, yet smiling Dhoni, inviting the journalist to share the stage with him. Dhoni pulled up a chair and asked him to sit. "Do you want me to retire?" he asked. "No," replied the scribe. "Well you know if you were an Indian then I would have asked whether you have a brother or son who is a wicket-keeper and who can take my place in the team," said Dhoni. "True, very true," replied the Australian.
Dhoni persisted: "Do you think I am unfit? Do you think I can survive till the 2019 World Cup?" "Yes sure," said the hapless journalist. "Then you have answered your own question," Dhoni said. "You fired the wrong ammunition at the wrong time mate." These were clear signs that Dhoni was getting jittery.
In other cricketing cultures, the tradition is to retire while you're still on top of your game. Adam Gilchrist retired after a series where he felt that his edge had only slightly worn off. That 1% drop in his powers was enough for him to feel that it was time to call it a day. Here, we tend to go on and on, like in a government job.
Dhoni has made the right decision, but it could have come earlier. He is still a fast runner between the wickets and among the biggest hitters of the ball. His experience will be useful to the team, even though we tend to overvalue experience in the subcontinent. Experience can get in the way of a fresh unfettered approach. One thing's for sure-Dhoni was the only captain in the modern game who was obsessed with the leg slip. With him out as captain, this odd field placement will go back to being a rarity rather than the norm, as it was with Dhoni.
(The writer is the editor of House Spirit: Drinking in India, published by Speaking Tiger)