India bag 13 medals at Junior Asian Wrestling Championships 2017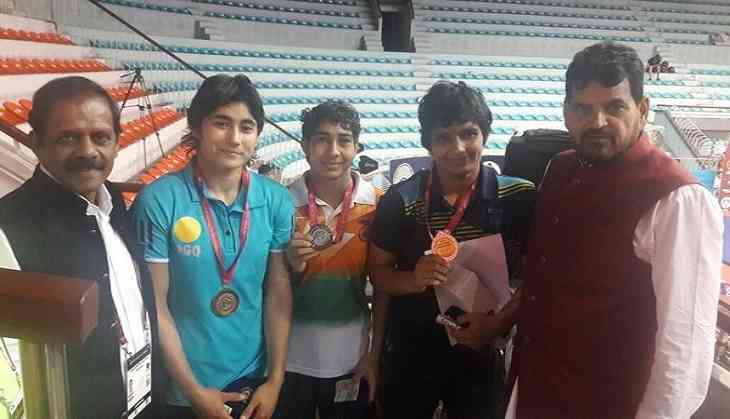 India won 13 medals, which included 2 Gold, 3 Silver and 8 Bronze medals, in the 2017 Junior Asian Championships which concluded on Sunday.
The tournament kicked off in the Taichung city of China's Taiwan Province on June 15, and were wrapped up on June 18.
A total of 24 Indian wrestlers participated in the four-day event.
Boxing Federation of India (BFI) chief Brijbhushan Sharan Singh congratulated the wrestlers for their astounding performance in the event.
The tournament brought together dozens of male and female freestyle and Greco-Roman wrestlers from various Asian countries and regions, including China, Chinese Taipei, India, Iran, Kazakhstan, Kyrgyzstan, South Korea and Uzbekistan.
The medals winners for India are as follows:
Gold medal:
• 51 Kg category (Women)---Pooja
• 60 Kg free-style category (Men)--- Sharvan
Silver medal:
• 44 Kg category (Women)---Sonu
• 84 Kg free-style category (Men)---Deepak
• 120 Kg Greco-Roman category (Men)---Satish
Bronze Medal:
• 59 Kg category (Women)---Manju
• 63 Kg category (Women)---Reshma Mane
• 72 Kg category (Women)---Pooja
• 50 Kg Greco-Roman category (Men)---Manish
• 74 Kg Greco-Roman category (Men)---Saajan
• 84 Kg Greco-Roman category (Men)---Sunil
• 66 Kg free-style category (Men)---Karan
• 120 Kg free-style category (Men)---Pushpendra
-ANI