GOAT: Serena Williams wins her 23rd Grand Slam title, just one behind Margaret Court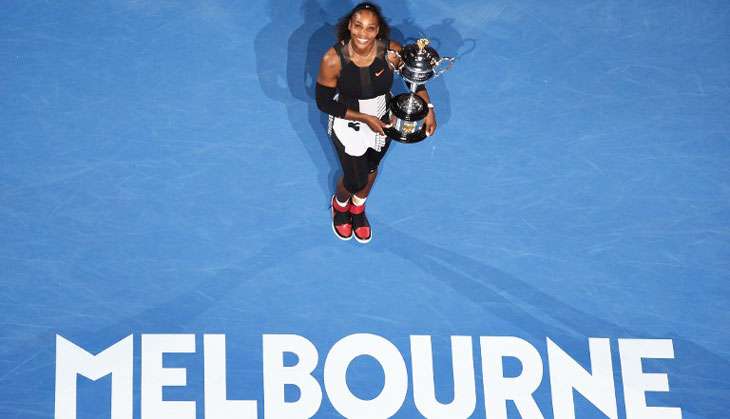 American Serena Williams is the Greatest Of All Time (GOAT). There is no disputing that. Today, she defeated her sister Venus Williams 6-4, 6-4 in just 82 minutes at Rod Laver Arena to win her 7th Australian Open Grand Slam singles title and her 23rd Grand Slam - just one behind Margaret Court - title.
On her way to winning the Australian Open title, Serena did what no sportswoman has since 2008. She won the tournament without even dropping a set. With the win, Serena reclaims the No 1 ranking. Venus too climbs to number 11.
Venus was eight years removed from her last appearance in a Grand Slam final. At that time, she was battling Sjögren's syndrome, an auto-immune disease that causes joint pain and fatigue. Venus Williams is 36, Serena, 35. With age not on their side, it's only a short period of time before both of them retire from the singles game. While Venus' days are certainly behind her, Serena is still peaking.
Here's a look at Serena's career:
Grand Slam doubles titles
4 Australian Open - 2001, 2003, 2009, 2010

2 French Open - 1999, 2010

6 Wimbledon - 2000, 2002, 2008, 2009, 2012, 2016

2 US Open - 1999, 2009

Serena along with partner Venus are undefeated in Grand Slam doubles finals
other trophies
1 Wimbledon (mixed doubles) - 1998

1 US Open (mixed doubles) - 1998

1 Olympic Gold (singles) - 2012

3 Olympic Gold (doubles) - 2000, 2008, 2012
weeks
Serena Williams will enter her 311th week as the number one women's singles tennis player following her Australian Open triumph.

Williams is just 22 weeks behind Martina Navratilova.

Steffi Graf holds the record with an incredible 377 weeks as the world's number one player.

Serena tied Graf for the record of most consecutive weeks, 186 weeks, as world number one
titles
Serena Williams has won 72 WTA titles in her career

23 Grand Slams, 23 WTA Premier Mandatory, 19 WTA Tour, 5 WTA Tour Championships, 1 Grand Slam Cup, 1 Olympic Gold

This puts Serena Williams at number 8 on the all-time list

Margaret Court is by far the leader with 192 titles

Following Court is Martina Navratilova with 167.

Ater that is Chris Evert (157), Billie Jean King (129), Steffi Graf (107), Evonne Goolagong (86) and Suzanne Lenglen (81)
Grand Slam matches won
Serena Williams has won a whopping 315 matches at Grand Slams

She broke Martina Navratilova's record of 306 at the 2016 U.S. Open

Chris Evert (305), Steffi Graf (280) and sister Venus (248) round out the top-five
Serena Williams made her pro debut in 1995 and didn't return to the Tour until two years later in 1997

Braveheart won the Oscar for Best Picture in 1996

Windows 95 was released by Microsoft

Ebay started the online and shopping website

Rock band Grateful Dead announced their breakup