Batsman, wicketkeeper, orator, legend: the many faces of Sangakkara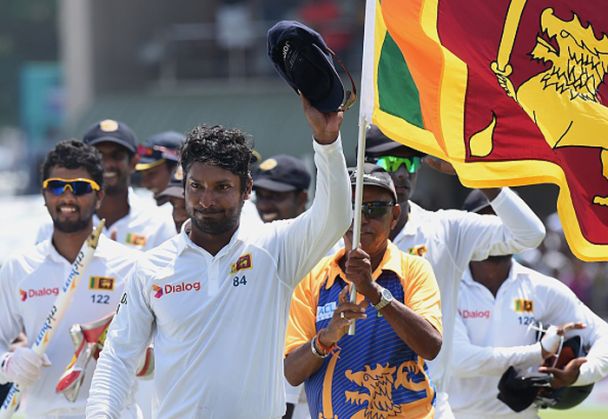 The second Test between Sri Lanka and India will be played at a historic venue. The P Sara Oval in Colombo is the only ground in Asia that Sir Donald Bradman batted at.
And starting on 20 August, the quaint little Tamil Union Cricket and Athletic Club ground will witness another slice of history - the legendary Kumar Sangakkara's farewell to international cricket.
Unlike many of his contemporary greats, Sanga's fame is not just about his on-field exploits. While a true great with the bat and with the wicketkeeping gloves, it is his statesmanlike behaviour off the field and his oratory that will be remembered as fondly.
We pay tribute to the genius of Sanga by casting a fond glance back at the multiple facets of his personality.
Or should it be 'craftsman'? Very few players in world cricket have made batting look as elegant as Sanga did. Like his friend and comrade-in-arms Mahela Jayawardene, Sanga didn't hit the ball, he caressed it.
It is almost as if he has a patent on the cover drive, which he plays while going down on one knee. He also has a knack for racking up 200-plus scores, as his 11 are behind only Donald Bradman's 12.
One of his most famous knocks came earlier this year in a Test against New Zealand, a gritty 203 in the second innings, albeit in a losing cause. Here's a look back at the sheer mastery of this artist:
Although he played as a specialist batsman in Tests since 2009, Sangakkara was the best wicketkeeper in the world at his peak. He was more prolific with the gloves in ODI cricket, and his records speak for themselves.
He holds the record for the most number of dismissals in ODIs, with 501 in 404 matches. He also holds the record for the most number of stumpings by a wicketkeeper in ODIs, with 99.
What made him unique was that despite not having razor-sharp reflexes, he made up for it with his game sense and anticipation. Watch the following clip at the 21-second mark, as he takes a stunning catch off Rangana Herath's bowling.
In 2011, Sangakkara delivered the Spirit of Cricket Cowdrey Lecture in front of a packed Lord's presentation hall. In doing so, he became the only Sri Lankan, the youngest person, and the only active player at the time to be given this honour.
Most subcontinental cricketers become the butt of jokes for their lack of oratorial skills. But Sanga is different.
His speech, titled 'The Spirit of Sri Lanka's Cricket - A celebration of our uniqueness' was far-reaching. He was applauded worldwide for his eloquence and bravery in delivering a speech of such a sensitive nature.
He also spoke about the dastardly terrorist attack on the team bus in Pakistan in 2009. Here's an extract from the speech.
Sangakkara has the gift of the gab, and he also used that to get into batsmen's heads. Sledging became a part of his playing style.However, Sanga is too classy for verbal abuse.
In an interview in 2004, he explained, "The public perception of sledging is to go out there and abuse someone in obscene language, questioning their parentage or sexual preferences. That kind of abuse does not belong on the field of play."
Sledging, as coined and pioneered by the Australians, is a measured comment designed to get a reaction out of a player. It could be any reaction: a bit of anger, a show of arrogance, a comment, a shake of the head, or a slump of the shoulders.
Look at how he tries to get under the skin of South Africa skipper Shaun Pollock when he walks out to bat in a 2003 World Cup match:
Cricket is called the gentleman's game, and it's great to see players who play the sport in the right spirit. Sangakkara was one of them, be it on the pitch or off it.
Fellow wicketkeeper-batsman Adam Gilchrist of Australia was synonymous with walking when he had nicked the ball, but Sanga regularly did so too.
Off the pitch, he is a member of the 'Think Wise Initiative' launched by the ICC and the UN, and is also involved in raising awareness around HIV prevention and eliminating discrimination against people living with HIV. He is also involved with Muttiah Muralitharan's charity, Foundation of Goodness.
Here is one instance where Sangakkara literally 'walked the talk'.
Growing up in the hill city of Kandy, Sangakkara actually had a host of hobbies. He played table tennis, badminton, tennis and cricket at school level, and it was only when his school principal offered advice to his mother that he started taking cricket seriously.
He was the head boy of his school, and won the award given to its most promising sportsperson.
After school, he entered the Law Faculty of the University of Colombo, while simultaneously playing cricket. He, however, could not finish his degree due to his cricket tours.
Watch this interview with Harsha Bhogle, where Sanga himself admits he would have made a bad lawyer.
A few months before the 2015 World Cup in Australia, CNN's Anna Coren asked Sangakkara if there was anything left for him to achieve. He replied, "I'm chasing a World Cup."
That, sadly, did not happen, as Sri Lanka were crushed in the quarter-finals by South Africa, after having finished runners-up in 2007 and 2011.But Sangakkara did win one World Cup, albeit in the T20 version.
Sri Lanka beat India in the final of the 2014 World Twenty20 in Bangladesh, and Sanga was man of the match.
It seemed to be poetic justice that Sanga, the captain when Sri Lanka lost to India in the 2011 50-over final, put one over the neighbours. Here are the winning moments from that match: