As India gets set to host its first Fifa event, here's your primer for the U-17 world cup
Catch Team
| Updated on: 25 September 2017, 18:21 IST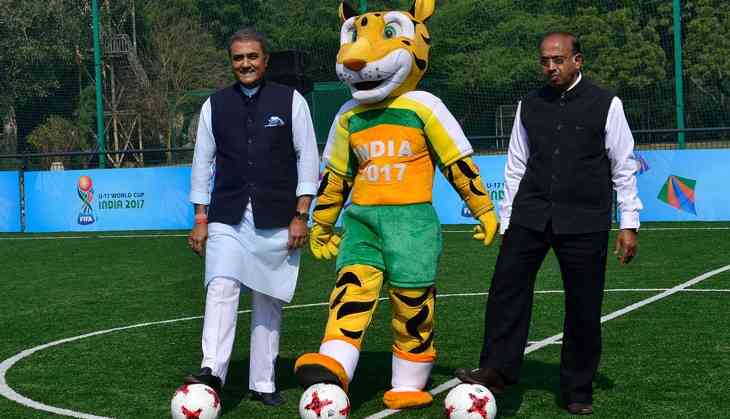 (Ramesh Sharma/India Today Group/Getty Images)
This October will mark a first for India: the country will host a Fifa event -- the Under-17 World Cup. The tournament, starting 6 October, will host 23 national teams from six different confederations, culminating at a finale in Kolkata on 28 October.
The event promises to be action-packed and exciting: already there has been an upset as defending champion Nigeria failed to qualify for the final rounds of the tournament that no country has hosted twice.
With less than two weeks away from the kick-off, here are some interesting facts about the tournament.
The 24 teams:
AFC (Asia): India, Iraq, Iran, Japan, North Korea
CAF (Africa): Ghana, Guinea, Mali, Niger
CONCACAF (Central, North America and Caribbean): Costa Rica, Honduras, Mexico, United States
CONMEBOL (South America): Brazil, Chile, Colombia, Paraguay
OFC (Oceania): New Caledonia, New Zealand
UEFA (Europe): England, France, Germany, Spain, Turkey
52: The number of matches that will take place.
6: The number of venues that will be host to the 52 matches. The venues are:
Salt Lake Stadium, Kolkata
Jawaharlal Nehru Stadium, Kochi
Jawaharlal Nehru Stadium, New Delhi
DY Patil Stadium, Navi Mumbai
Indira Gandhi Athletic Stadium, Guwahati
Fatorda Stadium, Margao
3: The number of teams making their U-17 World Cup debut at this tournament. The three teams are India, Niger and New Caledonia.
18: India are the 18th Asian team to take part in the U-17 World Cup.
5: 5 of the 17 editions of the U-17 World Cup have been held in Asia. Most for any continent.
2: The number of tams that have successfully defended their titles. Brazil in 1997-1999 and and Nigeria in 2013–2015.
1: The only host nation to win the U-17 World Cup was Mexico in 2011.
8: Eight different host nations have been eliminated in the first round itself. The teams are:
Canada - 1987
Italy - 1991
New Zealand - 1999
Trinidad and Tobago - 2001
Finland - 2003
Peru - 2005
South Korea - 2007
United Arab Emirates - 2013
3: Three teams have won in their tournament debut:
Nigeria - 1985
Soviet Union - 1987
Switzerland - 2009
16: Brazil and United States have made the most World Cup appearances. They'be both contested 16 U-17 World Cups, missing only one tournament. Brazil in 1993 and United States in 2013.
5: Nigeria has won the most U-17 World Cup titles. They won in 1985, 1993, 2007, 2013 and 2015
38,468: Highest average attendace for a U-17 World Cup was the U-16 World Championship in 1985 in China PR.
98,943: Most attended match of any U-17 World Cup is the 2011 final between Mexico and Uruguay which was attended by 98,943 spectators at the Azteca Stadium in Mexico City.
28: United States have lost the most games in U-17 World Cup history. No other team has lost more than 25.
4: Four finals - 1987, 1989, 1999 and 2007 were decided on penalties. Rest all were decided in regular time.
172: Most goals scored in a single U-17 World Cup in UAE in 2013.
77: Fewest goals scored in a tournament at the 1989 U-17 World Cup in Scotland.
1: Brazil's Ronaldinho is the only player to have won both FIFA U-17 in 1997 and the FIFA World Cup in 2002.
10: Most goals scored in a tournament was by Victor Osimhen Nigeria in the 2015 edition.
12: A total of 12 players have played in FIFA U-17 World Cup and have also represented their countries in a FIFA World Cup.
1: Out of those who have played both the U-17 World Cup and FIFA World Cup, Spain's Iker Casillas is the only one who has won the FIFA World Cup as a captain. He won it in 2010.