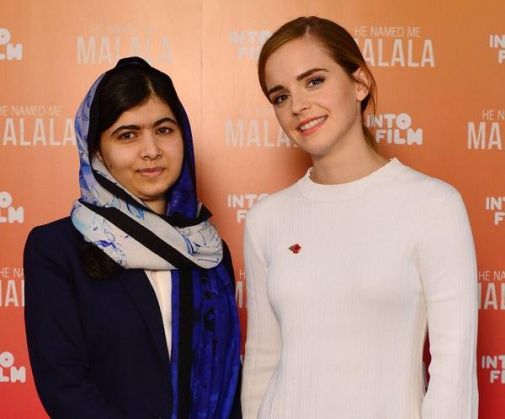 These two women in conversation couldn't be more different in terms of their background and upbringing. One belongs to the affluent West and has starred in one of the most famous film series ever made in history of cinema. The other comes from the orthodox but pristine Swat valley where little girls are killed for wanting to go to school. But when the two sat down for a conversation, the ideas that emerged were similar in words and spirit.
(scroll down for the video)
In an interview which lasted for about half an hour the Ivy League-educated actress and UN Women Goodwill Ambassador Emma Watson sat down with 'one of her personal heroes' youngest-ever Nobel Prize laureate Malala Yousafzai to discuss a range of issues - the film based on her life 'He named me Malala'; need for a woman President in the US ; and why it was difficult for Malala to accept that she was a feminist.
Malala, who shot to international fame after Taliban tried to kill her, spoke at length expressing her initial reservation about calling herself "a feminist". "I hesitated in saying [whether I am] a feminist or not," Yousafzai confessed to Watson. "After hearing your [UN] speech, when you said, 'If not now, when? If not me, who?' I decided there's no way, and there's nothing wrong with calling yourself a feminist. I am a feminist and you're truly feminist, because feminism is another word for equality."
Emma was overwhelmed by the compliment and thanked her interviewee with watery eyes.
She later tweeted about the conversation-
Watch the Full interview here-