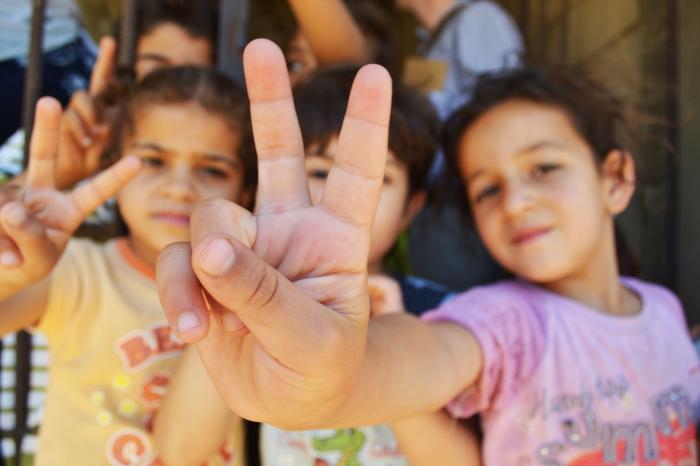 As the refugee count increases, we find some stories of brotherhood that transcend borders These men and women prove that there are still some individuals who believe that borders don\'t have to restrict humanity.
As troubling as it sounds, this year has been the year of refugees. The refugee count in 2015 is more than 60 million, the United Nations has ascertained. The homes of these asylum seekers have turned into battlefields as they flee their native land. There have been millions from Syria, North African nations, Iraq, Afghanistan, and counting.
Help and empathy, the two things that they need, do not come easy. Nations and governments willing to provide refugees temporary and permanent shelter are scant. Ironically, the land of immigrants, United States of America, has also turned its back to refugees. Man of the moment, Republican Presidential hopeful Donald Trump has actually said that 'Muslims should be banned' from entering his nation.
However, all hope is not lost in this world. ISIS and other terror outfits may be running a tight ship, spreading fear and hatred across the globe. But maybe, that has helped bring the rest of us closer.
Here are 6 wonderful instances when the world proved that refugees are, indeed, welcome.
A PhD-holding scientist fled to Turkey after he lost his home and half his family to the current situation in Syria. The elderly man also suffers from crippling stomach cancer. American blog Humans of New York profiled the man nicknamed 'The Scientist' and his story touched people across the globe, especially America. His desire to "make a lasting contribution to humanity" despite the quantum of his personal tragedy, has won him fans in the form of Oscar-nominated actor Edward Norton and President Obama. Norton has managed to raise half million dollars for his cause.
Thanks to all the monetary help that has poured in from across, The Scientist has arrived in Detroit, US, with the rest of his family to rebuild their lives. Daniel Kang, a University of Michigan student, runs a crowd-funding company and he managed to raise $16,000 for this man.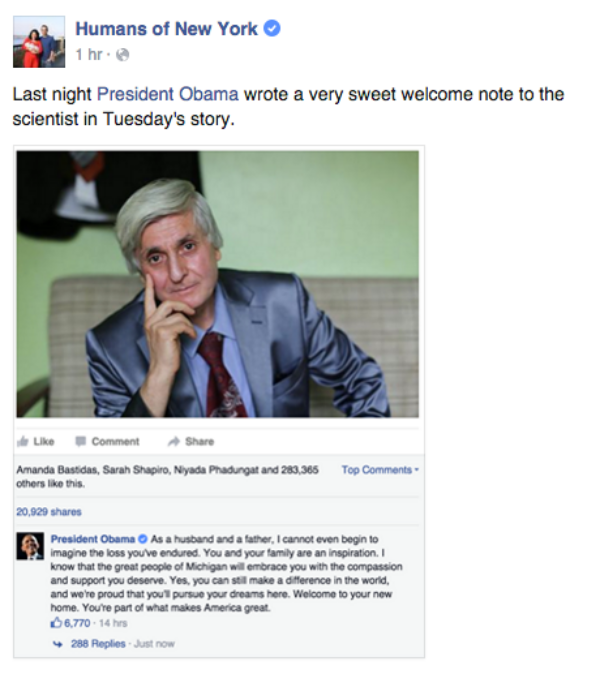 In 2015, 466,856 asylum seekers arrived on the Greek island of Lesbos. Crisis-hit Greece, which was forced to adopt extreme-austerity measures would seem least likely to help such a big influx of refugees. The unemployment rate in Greece is currently 25.2 per cent. Nearly half of all schoolchildren aren't getting enough to eat.
However, this country has heart. Volunteers are providing everything from housing to food, medical and legal help to refugees.An example of brotherhood in Greece: A marketing executive, who lost his job in the 2009 financial crisis, runs O Allos Anthropos, a mutual aid group that travels in a truck, cooking and serving meals at refugee camps.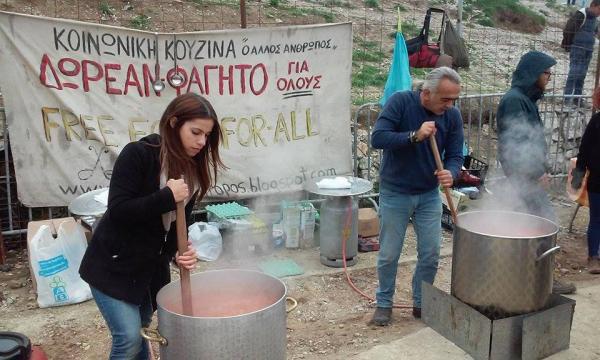 03
More than just a wedding
Canadian couple Samantha Jackson and Farzin Yousefian were planning to have a big traditional wedding this spring. However, the ongoing refugee crisis struck a chord with the young couple. And so they cancelled the big nuptials and got married at the town hall and used the wedding money to sponsor a Syrian refugee family.
Here's their awe-inspiring story:
While the US government has adopted a not so warm policy towards refugees, their less powerful and less rich neighbour Canada has adopted an inspiring approach to refugees. The federal government has announced that it will host 25,000 Syrian refugees in Canada by the end of February.
At least 10,000 refugees will arrive on private sponsorship. Hundreds of volunteer groups like RoomsForMore are collecting winter clothing, home supplies, shoes and donations and redistributing them to refugees who have already arrived, helping them adjust in a foreign land.
Watch Canadian Prime Minister Justin Trudeau welcome the first batch of Syrian asylum seekers arrive in Canada:
In 2015, 758,000 asylum seekers registered in Germany, after the European country opened its doors to refugees. However, an open border isn't enough. They are in an alien land, without a proper roof, food or supplies.
They haven't just lost homes; they lost entire neighbourhoods and communities. And Marina Naprushkina, a Berlin-based activist, is trying to better just that. She has opened Neue Nachbarschaft or "new neighborhood", where refugees can interact with fellow refugees and locals and learn German. There are art activities for children, donated clothes, and meals for anyone who drops by. Nachbarschaft and her colleagues also help asylum seekers to fill forms and help with legal advice.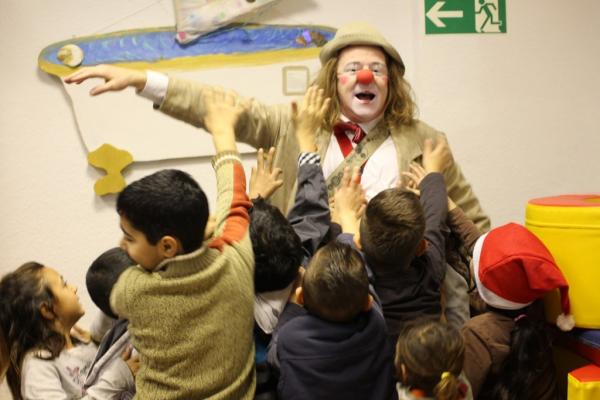 Toronto resident Christine Youssef, 26, and her mother are true super heroes. The Syrian natives have taken it upon themselves to sponsor for the arrival of 43 of their people from Syria in the next few months.
Right now, they have more than a dozen relatives from Syria already staying with them, sharing their two-bedroom house. The mother and daughter have taken loans, maxed-out credit cards and remortgaged their home to raise the $250,000 needed to sponsor their relatives. Kudos, women.