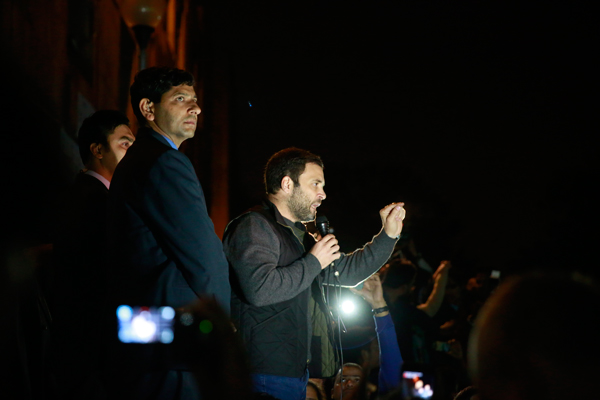 Professors from Jawaharlal Nehru University are finding that lectures they had been booked for at seminars and public gatherings are being cancelled.
For instance, on Friday, just as Prof. MN Panini, who taught at the Centre for the Study of Social Systems in the School of Social Sciences, JNU, was about to leave for the Central University of Jharkhand to speak on 'Challenges of nation-building in a global age' to commemorate the 140th birth anniversary of Sardar Vallabhbhai Patel, he was informed by Nand Kumar Yadav, vice chancellor of the Jharkhand university, that his address had been cancelled.
Yadav said that he cancelled Panini's lecture after he heard that students planned to disrupt it, according to The Hindu.
"There were also rumours that Professor Panini was Kanhaiya's supervisor," said Yadav. He said he did not want Panini to be 'dishonoured'.
Also on Friday, Professor Chaman Lal, a retired Professor from JNU, was heckled by ABVP students at Delhi University when he spoke on 'The life and writings of Bhagat Singh'.
Lal said after his lecture: "The ABVP did at the Delhi University what even the British colonial regime could not do - disturb Bhagat Singh's meetings."
Last month, ABVP activists attacked Professor Vivek Kumar in Gwalior at a symposium on 'Baba Saheb Ke Sapno Ka Bhartiya Samaj' (The Indian Society of Ambedkar's Dreams).