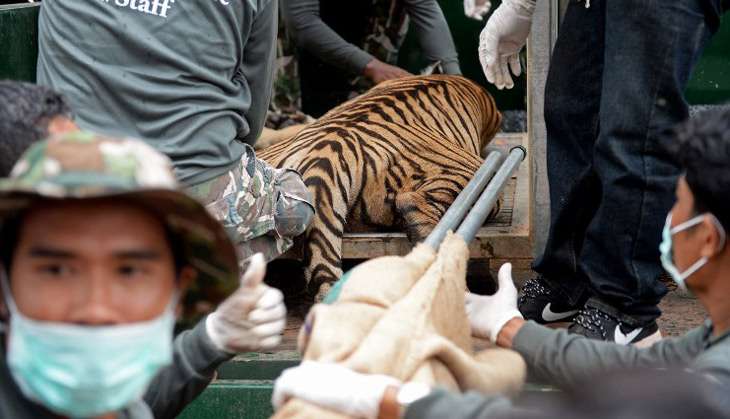 On 2 June, Thai police seized a truck carrying two tiger skins and several other animal parts as it was leaving the now-infamous Tiger Temple.
According to news reports, a monk and two others travelling in the truck were arrested and charged with possession of illegal wildlife. The monk will reportedly be arrested after he is defrocked.
According to reports, the truck was carrying two tiger skins and 700 vials containing tiger parts. Parts of the tigers' bodies are stored in vials and sold as good-luck amulets. A suitcase containing 10 tiger fangs was also seized from the truck.
The seizure came a day after 40 dead tiger cubs, a bear carcass and various animal horns were found in a freezer at the temple.
Police officials are now thoroughly checking on all the vehicles entering and leaving the temple.
"This confiscation shows that the temple is likely involved in illegal tiger trade. They are clearly violating the law in selling, distributing of transferring the protected animals or their parts," Teunchai Noochdumrong, director of of the Wildlife Conservation Office, told the BBC.
Thailand's Wat Pa Luangta Maha Bua Yannasampanno, or Tiger Temple, has been accused of illegal wildlife trafficking and breeding. Efforts are on to move the 137 tigers, who reside in the Tiger Temple - a popular tourist destination. All the tigers will be shifted to wildlife sanctuaries by the end of the week.