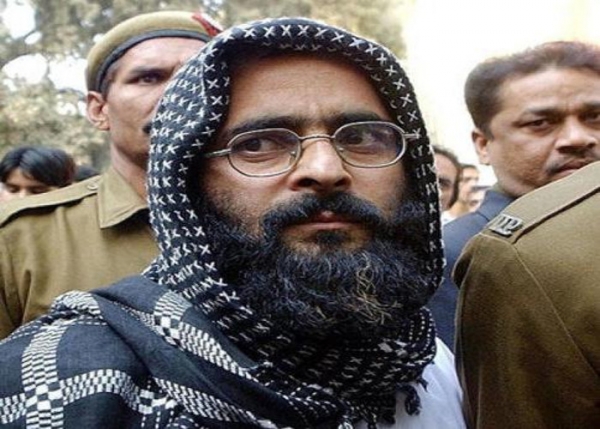 Charges of sedition and criminal conspiracy were filed against 'unknown people' by the Delhi Police on Thursday after clash between student groups at Jawaharlal Nehru University (JNU) on Tuesday, reports The Indian Express. The students had got into a fight over an event to commemorate the death anniversary of Afzal Guru, who had been hanged after being convicted in the Parliament attack case. The police had to be called on campus to restore order.
BJP MP from East Delhi Maheish Girri wrote a complaint against "anti-constitutional and anti-national elements" in JNU to Delhi Police Commissioner BS Bassi, Home Minister Rajnath Singh and Human Resource Development Minister Smriti Irani. The letter resulted charges being filed against unknown persons under Section 124A (sedition) and 120 (B) (criminal conspiracy) at Vasant Kunj North police station.
The police have collected video footage of the event from students and the media and questioned several students. They will also investigate the alleged use of arms during the clash.
JNU registrar Bupinder Zutshi said the university's Proctorial Committee has been given two weeks to submit its report after investigating "indiscipline" by the students. He said the students had held the event even though the university had withdrawn its permission for it.
"The three-member committee is being headed by Professor Rakesh Bhatnagar and includes Professor Himadri Bohidar and Professor Suman Kumar Dhar, who are all senior faculty members with no political or party leanings. Given the urgency of the matter, we have given them two weeks to submit their report," said Zutshi.
The JNU Students' Union (JNUSU) has condemned the slogans raised on Tuesday during the event as "anti-national" and "undemocratic". In response, the right wing ABVP has accused the JNUSU of having "double standards".
A JNUSU statement says: "At the outset, we would like to condemn the undemocratic slogans that were raised by some people on that day. It is important to note that the slogans were not raised by members of the Left organisations or JNU students. In fact, when the sloganeering took place, it was the Left progressive organisations and students who asked the organisers to stop slogans that are regressive."