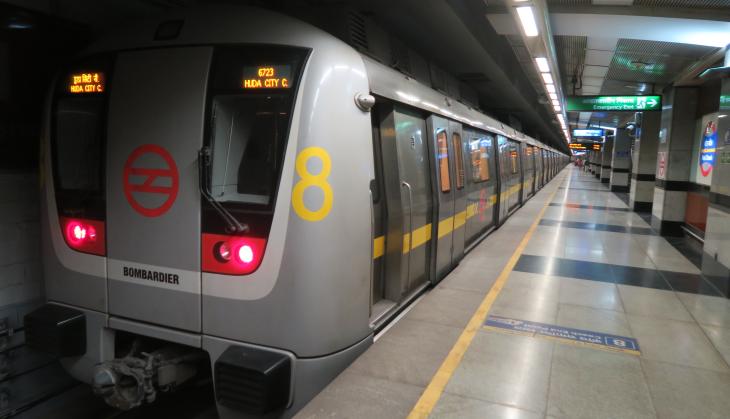 Humera Khan, a Muslim student in Delhi, was not allowed to board the metro in the National Capital allegedly because of her hijab (headscarf) for 'security reasons', on 6 May.
Appalled by the incident Khan, who reportedly has been taking the metro since the last 2 years, took to facebook to highlight the incident. She wrote: "The security personnel asked me to remove the Hijab, I could not help smiling and followed her instruction gladly. She waved the beeping machine on my entire head (I was still smiling like a person I am, mad) then when I started to drape it again she said that it is not allowed. "Iske sath aap board nahi kar sakte madam (You cannot board with this (the head scarf))."
Khan then asked the security personnel to call a senior person for clarifying the matter.
"A man who looked much more authoritative came, and I said,'Sir you can check my student id, here is my address I have been travelling in the metro from the last 2 years and I was never stopped at any station. Just tell me the reason and I would not bother you much,'" wrote Khan in her facebook post.
But the man reportedly in a 'very harsh tone' asked Khan to either leave or remove the Hijab without giving any apt reason. "I was left with no option except to leave, which I did,"-wrote Khan.
Khan mentioned in the post how shocking the incident was for her.
"I was suggested to complain, to awaz uthao...but when an authority disrespects your rights and is the one who is abetting the wrong then to whom you should complain? Even if I had it would not have done me any good because I surpassed those minutes of mental harassment which these guys inflicted upon me."
In a subsequent post, Humera added that she had filed a complaint with the Delhi Metro. "If there exists such a rule I condemn it. I have filed a complaint to DMRC. Let them revert, let them intervene until then I would request you all to maintain peace," her post reads.
"(H)ijab" is a religious sentiment for a Muslim girl. If there is any rule then why they did not consider Muslim women while making such rule. If they start making such provisions then girls like me would not have accessibility to such services. Metro is a public transport made for every citizen. If they have any security issue they should upgrade their security measures instead of making such rules. Besides, they made me remove my Hijab first, checked me thoroughly and then also didn't let me in which was just so unacceptable," Khan added.
There was response from the DMRC officials when Catch tried to approach them.
Meanwhile, CISF spokesperson Hemendra Singh person told Twocircles.net that there is no bar on wearing a Hijab, and that thousands of women wear it while commuting daily in the Metro. "It is only during a security check that people have to remove any veil or mask which covers their face. After that they are free to travel while wearing them. There is no guideline from us which bars a person from wearing a Hijab or a Burqa while travelling. This rule has always been in place. In the wake of the Rajinder Nagar heist, since the assailants were wearing masks, these guidelines were issued once again," he said.