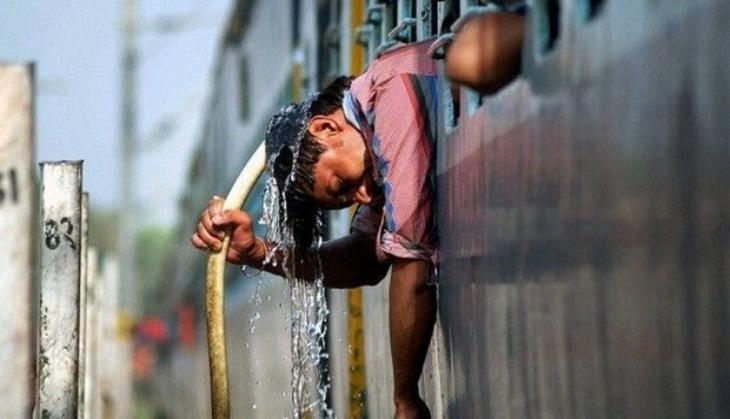 The hot weather conditions in northern India intensified on Monday with Delhi, Jammu, Srinagar and Shimla recording the highest temperatures of the season so far. In Telangana, the death toll due to the heat wave rose to 178.
The mercury is expected to keep rising in Uttar Pradesh over the next few days but people in Delhi and Jammu and Kashmir and tourist destinations of Himachal Pradesh can expect some respite from the heat, the weather office said.

Also read: Odd-Even no solution: Pollution actually increased from last year
Delhi sizzles
The hottest day of the National Capital coincided with a protest by taxi drivers over the Supreme Court decision to ban cabs operating on diesel and petrol.
The maximum temperature in Delhi on Monday was 44 degrees Celsius, five degrees above normal, while the minimum was 23.8 degrees, one notch below the season's normal.
School children and office-goers faced hardships in the scorching heat, particularly on the Delhi-Noida and Delhi-Gurgaon borders.
Meteorology department officials, however, said the heat wave conditions in the city were expected to come down due to rain or thunderstorm over the next few days.
Deaths due to heat
In Telangana, five more deaths were reported since Sunday, taking the toll to 178 so far this season.
Nalgonda accounts for maximum number of deaths (53), followed by Mahabubnagar (33) and Medak (30).
Seventeen died in Adilabad, 15 in Karimnagar, 10 each in Khammam and Ranga Reddy, nine in Nizamabad and one in Warangal. No deaths were reported from Hyderabad, the official said.
In a tragic incident in Adilabad district, two children died of heat while crossing a forest. The boys, aged 14 and eight collapsed and died while walking with their mother from one village to another on Sunday.
Heat in the hills
In Jammu and Kashmir, both Jammu and Srinagar recorded their highest temperatures of the season on Monday. While the maximum temperature was 42.4 degrees in Jammu, it was 28.5 degrees in Srinagar.
In Shimla, which also saw the season's hottest day, the maximum temperature was 29.8 degrees.
Una town was the hottest place in the state, recording a maximum of 43 degrees Celsius, the local Met Office said.
-With agency inputs