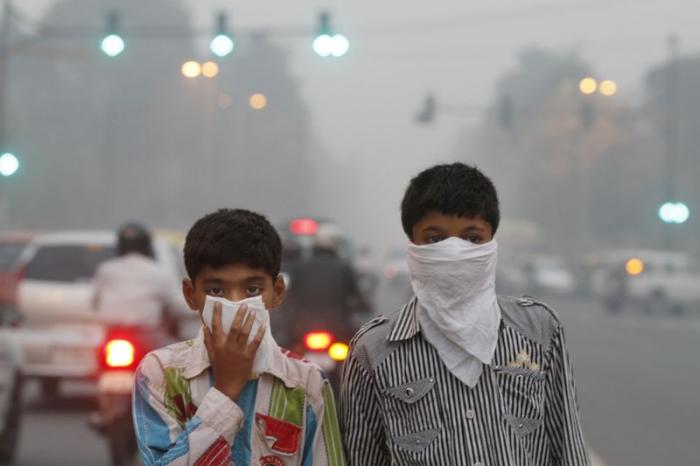 While Delhi Chief Minister Arvind Kejriwal\'s odd-even car formula is the source of countless debates, the city is literally choking to death under soaring pollution levels.
However, if Delhi were to follow the Beijing course of action, at least parts of it, there could be some relief in sight.
From area-wise alarms to shutting down offices and schools for a brief period, a look at the other immediate measures that could help Delhi breathe...
On 8 December, the pollution levels in New Delhi surpassed Beijing, measuring 14 times above the safety benchmark in certain areas. While the Chinese capital issued its first 'red alert', closing schools, construction sites and restricting the number of cars, no such alarm was sounded in the national capital.
The state government is pushing a number of policies starting from the contentious odd-even vehicle formula to the shutting down of thermal power plants, but there are a number of other immediate measures that could be included in the emergency plan to battle the toxic air we are subjected to.
Catch spoke to environmental lawyer Ritwick Dutta and his suggestions are:
When the toxicity of air reaches hazardous levels, the immediate step should be issuing warnings.
The safe limits should be announced so that people can compare it with the current limits and take measures accordingly.
The government should initiate vigorous campaigns that educate people about the dos and dont's when pollution levels soar.
02
Monitoring and shutting down construction sites
The government should close down construction sites which are violating pollution norms instead of penalising them.
This should also include metro construction work which can be stalled for a few days till pollution levels settle to normal.
Construction sites across Delhi and NCR should be monitored to ensure that they are properly covered with a screen. Plus, water should be sprinkled regularly a the site to ensure that dust particle settle down instead of adding to the pollution.
03
Terminating major sources of pollution
The government has decided to shut down two thermal power plants - Badarpur and Rajghat. However, other industrial plants which are blatantly violating the provisions of Air Pollution Act should also come under the ambit of this decision.
Interestingly, a study suggests that thermal power plants operating in Bihar have a direct impact on Delhi's pollution levels.
Therefore, not just the industries in the Capital but those in the vicinity should also be checked. Additionally, in the longer term, the government should plan whether it is ready to compromise on the use of electricity or not.
04
Increasing public transport/ limiting registration of private vehicles
As per the record, the total number of private vehicles in Delhi stands at 23 lakh, which is bound to go up to a crore by 2020-2025.
The government has to limit the registration of private vehicles while increasing public transport and improving connectivity.
05
Shutting down schools and offices for a few days
This is the most immediate step which can be taken. For instance, if schools and offices shut down for three to four days, it will help people avoid the high levels of pollution. Though it may lead to short term panic, it is a viable solution to let the pollution levels settle down while new regulations can be planned.