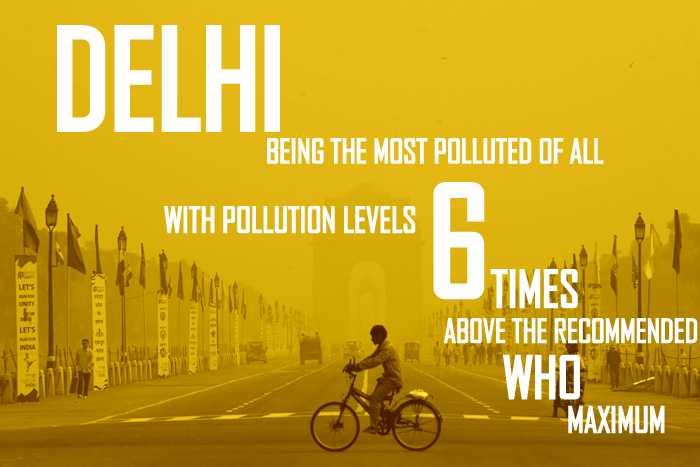 * Beijing has issued a red alert after pollution levels soared to a disastrous level in the city.* Schools have been shut, cars restricted and fireworks banned.* However, Delhi, which has literally surpassed Beijing\'s foul air quality today, has not issued any such alert.
Issuing its most severe smog warning today, the Chinese capital has suspended schools, restricted car travel and banned fireworks and outdoor barbecues in the city, with immediate effect, till Thursday. This prompt action has been taken as the city's air quality figures touched PM 256 (Particulate Matter)at around 8pm on 7 December.
However, Delhi, which has outdone Beijing on the pollution index, is yet to issue any warnings.
This is the first time in China that an alarm has been sounded at this level since the introduction of an emergency air-pollution response system in 2013.
Can Delhi wait any longer?
The National Air Quality Index recorded the air pollution values at over 400 (out of a maximum of 500) in four areas in Delhi - Anand Vihar, Mandir Marg, RK Puram and Punjabi Bagh, on 7 December.
This is severe as the level of pollution now needs immediate action. At Anand Vihar, the Particulate Matter 10 concentration at 8 pm on Monday was 1,903 migrogramme per cubic metre. This is 19 times more than the prescribed limit.
Permissible levels of PM (particulate matter) 2.5 and PM 10 are 60 and 100 micrograms per cubic metre respectively and consistent exposure to anything beyond that can harm the respiratory system as the particles embed themselves deep inside the lungs.
According to experts, the air quality is expected to be in the same range for the next three days in Delhi.
However, all that the Delhi government seems to have done is issue an odd/even formula for vehicles, to be implemented from 1 January, 2016. Firstly, this is not immediate action, given the soaring levels of pollution in the city, literally today. Secondly, the odd/even formula has already become a contentious issue, with the opposition up in arms against it and the common man clearly confused about alternate modes of travel.