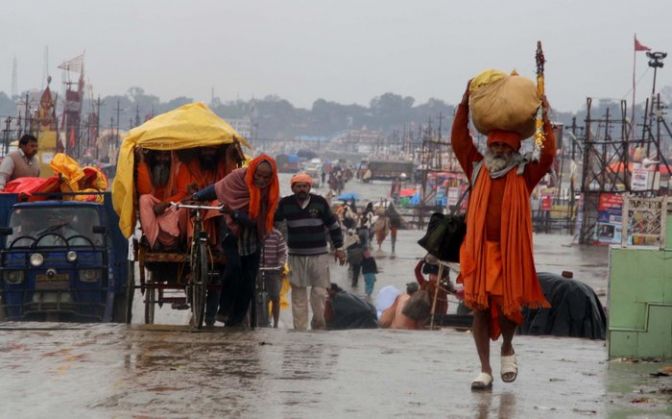 Members of the Akhil Bharatiya Akhara Parishad visited the home of Ujjain's qazi Khaleel-ur-Rahman to ask him to lead the procession that begins the Kumbh Mela Simhastha on 22 April this year.
Acharya Narendra Giri, head of the apex body of akharas, said: "This is the first time we have formally invited the shahr (city) qazi. The objective is to create goodwill and communal harmony."
The qazi said he was overwhelmed by the offer which he greatly valued at this time of divisive agendas, according to The Telegraph.
The Simhastha this year shows more such signs of inclusiveness. Overcoming resistance from the Akhil Bharatiya Akhara Parishad, the Ujjain administration has given the transgender community five acres of land on which its members can stay during the Simhastha. The Kinnar akhara, composed of transgender people from 22 states, has been formed for the occasion said its convener, Rishi Ajay Das.
The Simhastha procession traditionally takes place about two weeks before the Simhastha formally opens with a shahi snan (royal bath). The procession is composed of the heads of many of akharas, sitting on silver thrones on elephants, accompanied by armed sadhus on horses and camels.
Behind them follow hermits, monks, priests and devotees on foot. The procession ends at Ram Ghat on the river Kshipra which is holy during Simhastha.
This year, there will be three shahi snans during the Simhastha, on 22 April and 9 and 21 May.
The Kumbh mela this year expects to see more than five crore pilgrims.