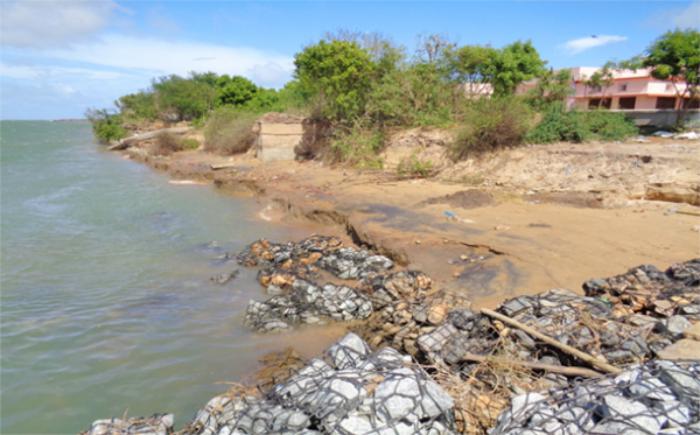 To safeguard vulnerable seaside settlements in Odisha's Kendrapara district, construction work on a 17.5 km-long seawall project is in full swing.
A World Bank team inspected the work recently and expressed satisfaction over the quality and progress of the project work, a district Irrigation official said on Sunday.
The Rs.42-crore project sanctioned under the National Cyclone Risk Mitigation Programme and funded by World Bank is being implemented in exceedingly vulnerable seaside pockets of Kendrapara district, Saline Irrigation Division executive engineer Jugal Kishore Tripathy said.
A 14 km-long seawall is being erected at Praharajpur Chashisabha area under Rajnagar tehsil while a 3.5-km long seawall is being installed in Sasanpeta gram panchayat.
Almost 90 per cent of construction work is already completed. The seawall would be complete in the next two months. These areas were highly susceptible to sea erosion and ingress of tidal waves, the official said.
The wall would shield more than a dozen villages from the fury of the sea, he said.
The seawall would be 20 feet high. The tidal surge rises up to 10 to 12 feet during cyclonic storms. Thus it can tame the ingress of tidal waves, he said.
A new technology has been applied for the seawall building as the smashing of sea waves is intense in these areas. Galvanized metallic gabion boxes are being placed inside the seawall embankment structure to reduce the force of wave energy, the official said.
Presently, seaside villages are armed with saline embankment of six feet height which are inadequate, the official said.
Scourge of sea erosion and tidal ingress has threatened several thickly populated human settlements and nearly 22 km stretch shoreline categorised as critically vulnerable patches.