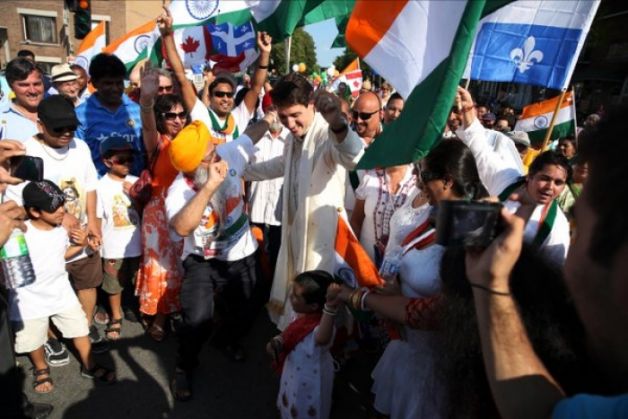 Newly-elected Canadian Prime Minister Justin Trudeau is in the news these days for all the right reasons. From being touted as the 'sexiest politician' in the world to being tagged as the ultimate people's person, Trudeau has amazed people all around the world after this video of him dancing to Bhangra tunes went viral.
Trudeau, who is an uncharacteristically good-looking politician, was dancing to bhangra beats clad in a desi kurta-pyjama and a dupatta.
The YouTube video dated 20 October, shows 43-year-old Trudeau dancing to the Punjabi tunes at an India-Canada Association of Montreal event.
Watch the video here:
An Indian woman dragged him to the dance floor, giving Trudeau the best opportunity to prove his killer dancing skills. The video went viral over the internet with lots and lots people sharing it across platforms.
Justin Trudeau won the Canadian Prime Ministerial elections with a landslide victory on 20 October. Here are some entertaining tweets about the newly elected 'hot' PM.
All you need to know about Canada's new Prime Minister #JustinTrudeau https://t.co/L9Z6rdEUhr pic.twitter.com/fDM0jndi0T

— TheNewsMinute (@thenewsminute) October 22, 2015
Canada is already in love with its new prime minister https://t.co/ZpgMrDpNBt pic.twitter.com/oJ6eI8mAiO

— The Independent (@Independent) October 20, 2015
Canadian PM #JustinTrudeau at a local mosque.He gets involved with every community. Immensely down-to-earth pic.twitter.com/bTZq4dJr9e

— Siasat.pk (@siasatpk) October 22, 2015
The newly elected PM #JustinTrudeau has an all-encompassing & all-inclusive approach-just saw his video clip of Bhangra & a pic in th mosque

— Khalida Tasneem (@KhalidaTasneem) October 22, 2015