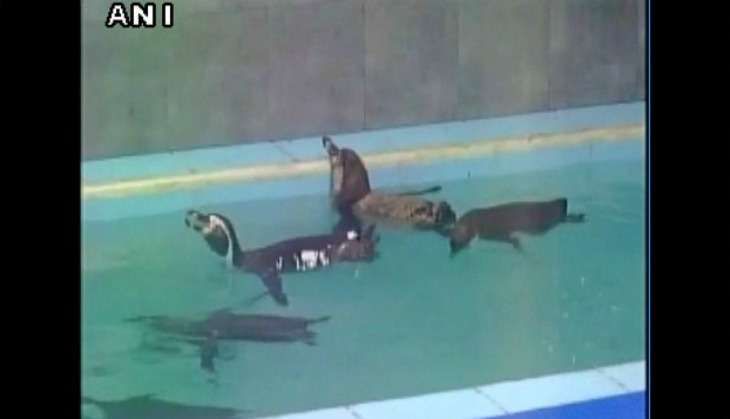 Is Pingu lost? No, da. Pingu's come to stay. Mumbai's Byculla Zoo is now home to a rookery of newly-arrived penguins from Seoul, South Korea.
This colony of Humboldt penguins - comprising three females, three males (all adult), and two baby female penguins - are currently quarantined for 90 days. A 200 sq ft pool has been created for them for now. The penguins will be allowed visitors from December onwards.
Dr Sanjay Tripathi, director of VJB Zoo, says: "They arrived by flight kept in a special casing and as soon as they reached the zoo, they were shifted to the quarantine area that has all the facilities, including temperature control, air purifiers and others. They were even given food that includes ... sardines, which are easily available in Mumbai."
Clarifying their stand on the issue of penguins living in India, he said: "We have all the permissions and the zoo is trying to create a world-class infrastructure for keeping these penguins. The enclosure for public viewing will be ready in three months and so will be the quarantine period, and then we can directly shift them."
Twitter, however, is not happy. Chuck the money spent to bring them here, how will penguins, who are used to temperatures in the negative, survive Mumbai's humidity and heat?
#byculla #penguins #mumbai @anandsiva pic.twitter.com/IzUCGOoR7G

— Karthik (@The_Karthik) July 27, 2016
Why would you import Penguins from their habitat in South Korea and bring them here in Mumbai to be kept in 400 square feet pool? #Cruel

— Mehak Sareen (@Mehak_Sareen) July 27, 2016
STUPIDITY MAX. #Mumbai zoo is spending Rs. 24 crores for #HumboldtPenguins that don't belong here. I don't even... https://t.co/EN3eElcTZu

— The Potpourri Girl (@TaariniNB) July 27, 2016
Rs 24cr for penguins in Mumbai? That's like spending money to move a fish into a concrete bowl without water! #MumbaiZoo

— Rahul Puri (@rahulpuri) July 27, 2016
The #HumBoltPenguins welcomed with placards in #Mumbai. Sadly, the #Penguins can't read & noone else would either pic.twitter.com/yvPKFQMedY

— Shashwat DC (@shashwatdc) July 27, 2016
Let those friggin 23 crore rupee penguins from the Mumbai zoo live in our potholes and drive the ubers and olas.

— José Covaco (@HoeZaay) July 27, 2016
Bad news for public money and the penguins. https://t.co/N4ZWEWIFHa

— Sanjay (@mojosanjay) July 27, 2016
Animals should be left to live in their natural habitat. Mumbai's heat is unbearable for us humans, can't imagine... https://t.co/cJcM1rYqoC

— Terracon_Ecotech (@terracon_india) July 27, 2016
@AUThackeray Where was #UddhavThacKeray's environment concern when the penguins were being brought to #Mumbai?

— Yogesh Pawar (@powerofyogesh) July 27, 2016
--
Edited by Aishwarya Yerra