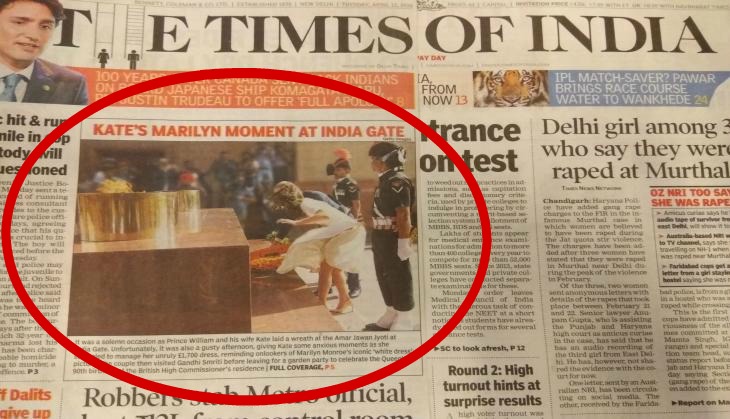 So the royal family is here. From meeting  the owner of Britannia - Mumbai's iconic Irani joint - to playing cricket with kids, the Duke and Duchess of Cambridge, Prince William and his wife Kate have been making all the right moves. And of course, every broadsheet, tabloid, website, pamphlet worth its headline is busy catching each moment, for posterity.
Including when the royal couple laid a wreath at the Amar Jawan Jyoti at India Gate on Monday, and the Duchess had a rather trying time with her dress, which refused to comply to the laws of gravity and merrily billowed in the gusty wind.
So what was an otherwise solemn occasion, became a photo-op as lensmen clamoured to click the Marilyn Monroe-esque moment. Not just that. The Duchess' pretty toes also grabbed headlines as a British tabloid went to town about how she apparently missed out on a pedicure appointment before her India visit. Bit of a low blow, perhaps?
Netizens woke up to the image on their screens and daily papers and decided to vent their annoyance, with a vengeance. Twitter, of course, led the way. And here's what erupted:
#Times of India such a shame for your front page leading news headlines. Useless and newsless

— saurabh Jha (@jha_skj) April 12, 2016
India is having a bad Times of India

— Anik Saha (@aniksahaonline) April 12, 2016
in CV : I am a pervert.
Times of India is offering me a lucrative job.

— Anik Saha (@aniksahaonline) April 12, 2016
Kate's Marilyn Moment:Good photo in Times of India by @GettyImages
Right call by ToI news editors to place it prominently. #RoyalVisitIndia

— Shantanu N Sharma (@shantanunandan2) April 12, 2016
Times of India is the reason for first masturbation of many Indian boys

— Anik Saha (@aniksahaonline) April 12, 2016
The Times of India is taking revenge from Britishers I guess!
Such a 'sexy' picture on front page !
अतिथि देवो भव ! pic.twitter.com/rqa3VFQcHy

— Saumil Joshi (@saumilp3y) April 12, 2016
Sometimes I just love the daily mail, especially when their second biggest headline is that Kate Middleton forgot to paint her toes X

— Jade Puntin (@_JadePuntin) April 11, 2016
Our Prime Minister hasn't paid his taxes and yet all the Daily Mail is interested in is Kate Middleton's feet 🤔

— Lucy (@ljenksx) April 11, 2016
I wish that I could remove India from Times Of India RT If you feel the same

— Aashish Kushwaha (@iamash_007) April 12, 2016
Well if it was Indian Express paper the Headline would have been
"They Camerman shot while Kate Middleton's skirt went up " TImes of India!

— Trojan_Horse (@SampathRedDevil) April 12, 2016
Hey Times of India, limit-it to shaming yourselves. Shaming the nation is so not cool.

— HIMANSHU (@hparmekar) April 12, 2016
Dear Times of India,if start journalism and stop acting like playboy magzine.

— Prashant Bhatt (@impbhatt) April 12, 2016
The day is not far away when Times of India will compete adult magazines. Too much of stupid adult content then worthy news.

— Himanshu Sharma (@shrmahimanshu) April 12, 2016
I will not be shocked if Times Of India prints "Rain during Mayawati rally, she had a Raveena Tandon moment".

— Pakchikpak Raja Babu (@HaramiParindey) April 12, 2016
wow, Times Of India is trending, they must have reached a new height of perversion

— Anik Saha (@aniksahaonline) April 12, 2016
Everytime when I think Times of India can not do worse than this,they always prove me wrong.

— Prashant Bhatt (@impbhatt) April 12, 2016
Times of India making Kate Middleton feel right at home with a Daily Mail like front page.

— Ankit (@ankitpathak04) April 12, 2016
BREAKING NEWS - Times of India are planning to introduce a new page of "Manohar chitra" exclusively for 18+ audience

— Mr. Fukra (@MrFukra) April 12, 2016