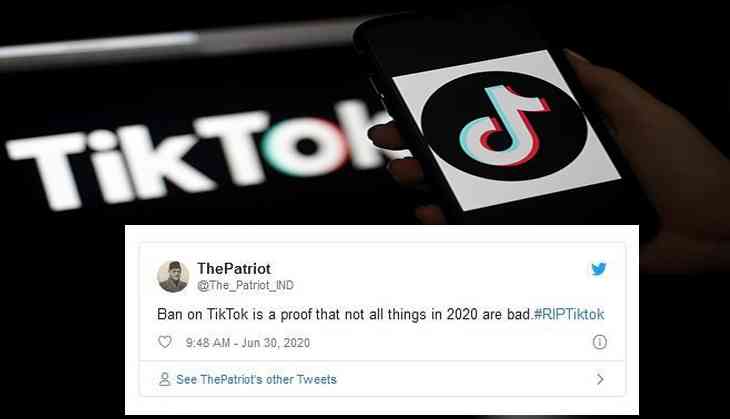 The government of India has imposed a complete ban on 59 apps of Chinese origin including TikTok on Monday. Ever since the news broke out, social media has been flooded with several hilarious messages, memes, and jokes.
However, the government has taken this major decision amid the ongoing border tensions between India and China in Galwan Valley.
Apart from banning the TikTok app, there is a list of other Chinese popular apps that have been banned now i.e. Helo app, SHEIN, Shareit, UC Browser, Likee, Clash of Kings, among others. However, Zoom and PUBG are kept out of the list.
Citing the privacy concern, the Indian government has decided to ban 59 Chinese linked apps.
According to the press release, "The Ministry of Information Technology, invoking it's power under section 69A of the Information Technology Act read with the relevant provisions of the Information Technology (Procedure and Safeguards for Blocking of Access of Information by Public) Rules 2009 and in view of the emergent nature of threats has decided to block 59 apps since in view of information available they are engaged in activities which are prejudicial to sovereignty and integrity of India, defence of India, security of a state and public order."
With the announcement of this decision, netizens have started trolling TikTok users by creating bizarre memes on them. Even a hashtag is also trending on Twitter i.e. #RIPTikTok.
Check out memes, jokes created by Twitterati:
Meanwhile memers Abe hamara bhi hath hai #RIPTiktok pic.twitter.com/WdlHYiWsU4

— Bikram Singh (@BikramS97264319) June 30, 2020
Ban on TikTok is a proof that not all things in 2020 are bad.#RIPTiktok

— ThePatriot (@The_Patriot_IND) June 30, 2020
#RIPTiktok pic.twitter.com/xN4WlQv5Kt

— JOJY THOMAS 🇮🇳 (@JoTho20) June 30, 2020
#RIPTiktok 😂😂😂😂 pic.twitter.com/y7PeKxtabW

— HBD THALA Dhoni🍻 (@BadEyesVillain) June 30, 2020
#RIPTiktok
Once the legend said to tiktoker😂 pic.twitter.com/vLBua7Pl0s

— Rajiv Ranjan (@RajivRanjanOjh7) June 30, 2020
#pubgban
After ban of 59 Chinese apps in India 😂
Le pubg player & mobile companies:#RIPtiktok pic.twitter.com/zWtvLBGAjR

— Suraj🔱🇮🇳 (@surajsiiingh) June 30, 2020
On Tuesday, Head of TikTok India, Nikhil Gandhi posted a statement on Twitter and wrote, "The Government of India has issued an interim order for the blocking of 59 apps, including TikTok and we are in the process of complying with it. We have been invited to meet with concerned government stakeholders for an opportunity to respond and submit clarifications.
TikTok continues to comply with all data privacy and security requirements under Indian law and has not shared any information of our users in India with any foreign government, including the Chinese Government."
June 30, 2020
A senior official at the IT ministry said the prime reason to block the apps under section 69 A of the Information Technology Act is to stop the violation and threat to the security of the state and public order and to plug the data leaks.
Also Read: Government bans 59 China-linked apps TikTok, Helo, Shein; Check full list here