Taruna Aswani, a 26-year-old woman residing in the US, was checking her email on 22 October when one particular email caught her attention.
Smack in the middle of her flooded inbox was one email that came with the seemingly-innocuous subject line: "Long time no see".
"I have nude pictures and video that belongs to you that nobody else knows it exists beside the person you sent to (sic)," the email read.
The sender, who claims to be named Kevin John, went on to threaten Taruna about leaking the said footage to her contacts, should she approach the police with the case.
Read the email here: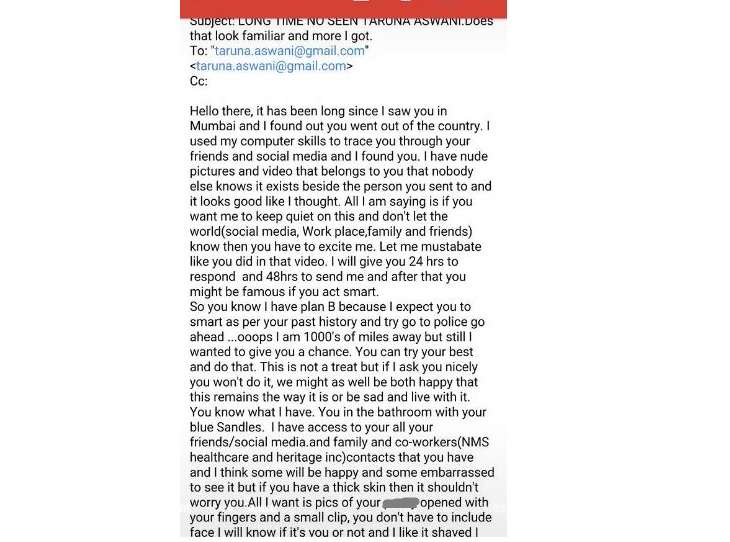 Immediately after reading the email, Taruna contacted the Police, the Cyber Crime Department and the FBI, asking them to probe the case. Soon enough, she received a second threat, via email - from a person who claimed to have hacked into her Google cloud backup.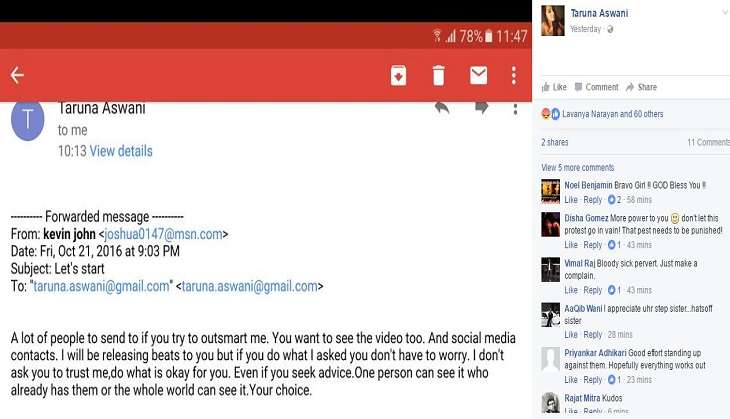 "I knew I had to take a stronger action," Taruna told Catch.
She decided to take her case to her social media networks, hoping to spread the news so as to help nab the perpetrator.
"As embarrassing as the videos may be ( they were sent to my boyfriend at the time ) I choose to stand up to this man. Instead of cowering down to his requests. I do this so that other women may take a lesson to stand up to bullies and low life's like this and may get the confidence to stand up as well in case he is known to us and is targeting all of us, but we're either too scared, ashamed or clueless in how to manage or handle such situations... Perhaps someone may be able to locate this person through his digital footprint," she said in a Facebook post.
Taruna's public post went viral, garnering over 1000 shares in under 24 hours after being posted.
"I was hesitant to share the emails due to their content, but I had a lot of support from my boyfriend, friends and family which gave me the courage to go public with it and social media is the best platform. I have no words to express my gratitude to everybody who has shown support!" she told Catch.
"I haven't received any email from this guy since! Plus the support I've been getting has made me even stronger," she said.
When asked if she had lodged a complaint with Google and (or) MSN (the sender's email server), she said: "I called the Google helpline and the response was so disappointing. They straight away said they can't help. I haven't mailed them yet though. I haven't contacted MSN yet".
On her Facebook post, Taruna has also shared the contact details of the detective that has been assigned the case.
When asked about how we can stay better online, she said:
"I think everyone should have the right to privacy and the freedom to keep any pictures and videos they want. We shouldn't have to live in the fear of having our information leaked and misused by someone. Do take the precautions : know your phone better, educate yourself, make the necessary security settings. But despite all that, you may be the victim to Cyber crime. And if you are, I urge you to speak up. I've heard of so many women being the victims to Cyber Crime and some can't handle the humiliation and end their lives. By sharing my story, I wish to share my strength, encourage women to speak up in such situations and don't let disgraceful sick men like this scare you or humiliate you. Don't be victims and suffer alone. Just ask for help, there are thousands of people out there to help you! There's all the support you need!"
Cyber crime in India
When asked if things would be different were she forced to seek intervention of the Indian cyber crime cell, Taruna said:
"I think I would have dealt with it the same way even in India... I filed a complaint here and they were very professional about it. I've only emailed the Cyber Crime branch of Mumbai and haven't received a reply yet".
"I wish the Cyber Crime branch was more swift with their response and action. I've emailed Cyber Crime branches in Mumbai and US and haven't got any response yet!" said Taruna, who moved to the US a few months ago.
She also said that a few of her friends planned to approach the Mumbai cyber crime branch to follow up on the case.
What to do if you are a victim of cyber harassment in India
Under India's Information Technology Act, a cyber crime can be filed at any cyber cell.
Here are a few steps you can take to counter cyber crime in India. If you fall prey to an instance of cyber crime/cyber blackmailing:
Register an FIR at your nearest police station. Your complaint will be forwarded to the cyber crime department.
Carry a copy of the offending email with you.
Extract the extended headers of offending e-mail (If you do not know how to extract header please refer to section 1 of this FAQ).
Bring soft copy as well hard copy of offending e-mail.
Please do not delete the offending e-mail from your e-mail box.
Please save the copy of offending e-mail on your computers hard drive. (Information from Cyber Crime Investigation Cell, Mumbai website)
Register your complaint online at the Cyber Crime Center website
You may also want to file a complaint with the National Commission for Women, on their website.
Here's a handy list of the cyber crime branches in India and their contact details:
1) Bangalore
Cyber Crime Police Station,
CID Annexe Building, Carlton House,
# 1, Palace Road,
Bangalore - 560001.
Telephone: +91- 080- 22942475, +91- 080- 22943050
Email: [email protected]
Website: http://www.cyberpolicebangalore.nic.in
2) Chennai
SIDCO Electronics Complex,
Block No. 3, First Floor,
Guindy Industrial Estate,
Chennai -32
Telephone: 044 22502526
Email: [email protected]
Website: http://chennaicyberforce.com/contact-cyber-cell/
3) Delhi
Central Bureau of Investigation,
Plot No. 5-B, 6th Floor, CGO Complex,
Lodhi Road, New Delhi - 110003
Telephone: +91-11-4362203, +91-11-4392424
Website: http://cbi.nic.in/
E-Mail: [email protected]
4) Hyderabad
In Charge Cyber Crime Police Station,
Hyderabad City.
Telephone: 04027852040
Website:http://www.hyderabadpolice.gov.in
Email : [email protected]
5) Cyberabad
ACP Inspector Cyber Crimes
Sub-Inspector Cyber Crimes
IT Cell Special Branch
Telephone: 9491 039 167, 9491 039 172, 9491 039 088, 040-2785 3413
Website: http://cyberabadpolice.gov.in/cybercellwebsite
6) Nagpur
Cyber Crime Investigation Cell,
Crime Branch, 4th Floor,
Administrative Building No. 1,
Near Udyog Bhavan,
Civil Lines, Nagpur-01
Telephone: +91 - 712 - 2566766
Email:[email protected]
Website: http://www.nagpurpolice.info/manage_pages?id=29
7) Pune
Office of Commissioner of Police
2, Sadhu Vaswani Road,
Camp, Pune - 411001
Telephone: +91-20-020-26126296, 26122880, 26208250
Fax: 020 26128105
Website: www.punepolice.gov.in
E-Mail: [email protected] / [email protected]
8) Mumbai
Cyber Crime Investigation cell,
Annex III, 1st floor, Office of the Commissioner of Police,
D.N.Road, Mumbai - 400001
Telephone: +91-22- 24691233
Website: http://www.cybercellmumbai.gov.in
E-mail id: [email protected]
9) Haryana
Cyber Crime and Technical Investigation Cell,
Old SP Office complex,Civil Lines
Gurgaon
E-mail: [email protected]
Website : http://gurgaon.haryanapolice.gov.in
10) Rajasthan
Telephone: +91-9672700012
Website: http://www.cybercellindia.com/
e-mail: [email protected]
11) Madhya Pradesh
Inspector General of Police
State CYBER POLICE,
Bhopal (M.P.)
Telephone: 0755-2770248
Email: [email protected]
Website: http://www.mpcyberpolice.nic.in
12) Kerala
Website: http://www.keralapolice.org/newsite/ccps.html
Helpline Numbers: 0471-3243000, 0471-3244000, 0471-3245000,
13) Meghalaya
Website: http://www.meghpol.nic.in
14) Thane
3rd Floor, Office of Commissioner of Police,
Khalkar Lane, Court Naka, Thane (W)
Telephone: 022-25410986
Email: [email protected]
Website: http://thanepolice.org/cybercell.php
15) Uttar Pradesh
Cyber Complaints Redressal Cell,
Nodal Officer Cyber Crime Unit Agra,
Agra Range 7,Kutchery Road,
Baluganj,Agra-232001
Telephone: 0562-2463343, Fax: 0562-2261000
E-mail: [email protected], [email protected]
Website: http://www.cybercellagra.com
16) West Bengal
DIG CID
IIIrd Floor, Bhawani Bhawan
Alipore, Kolkata - 700 0027
Telephone: 033 2450 6100
Fax Number - 033 2450 6174
Email :[email protected]
Website: http://cidwestbengal.gov.in
17) Gujarat
DIG, CID, Crime and Railways
Fifth Floor
Police Bhavan
Sector 18, Gandhinagar 382 018
Telephone: +91-79-2325 4384, +91-79-2325 0798, +91-79-2325 3917 (Fax)
18) Jharkhand
IG-CID,Organized Crime
Rajarani Building,Doranda Ranchi, 834002
Telephone: +91-651-2400 737/ 738
E-mail: [email protected]
(Sourced from Cybercrimehelpline.com)
Click here for a full list of cyber cells in India.