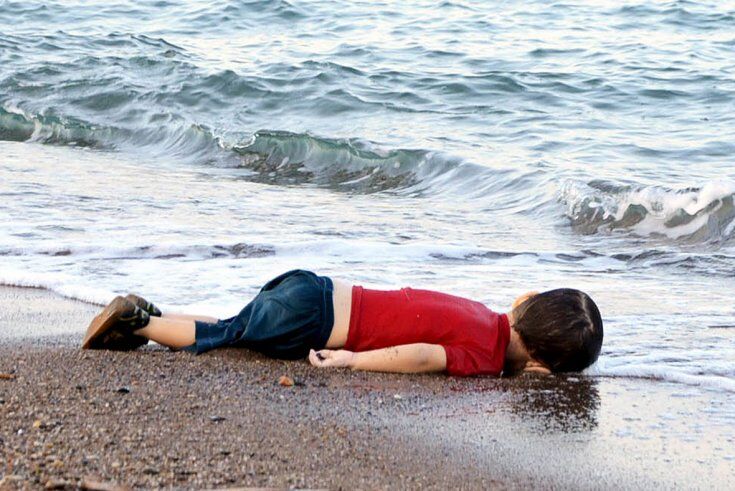 When Charlie Hebdo was attacked by gunmen at the magazine's headquarters in Paris eight months ago, the world prayed for them and stood by them with chants of #JeSuisCharlie everywhere. After the traumatic attack, they sold record one million copies the very next day.
Despite the overwhelming support from media and governments alike not so long ago, Charlie Hebdo has managed to make news for all the wrong reasons. Hebdo shamelessly mocked the death of the Syrian toddler who became the symbol of the refugee crisis. It featured the cartoons of the child and that too in a rather insensitive manner.
When angry netizens took note of it, they said that being a news outfit, it is easy to hide behind the veil of 'freedom of speech' and this is precisely what Hebdo did. It featured two offensive sketches of the child who was found dead on a Turkish beach.
The first drawing titled "So close to his goal" features Aylan lying face down on sand right next to a public board of a 2-for-1 McDonald Happy Meal that reads "Two menus of children for the price of one."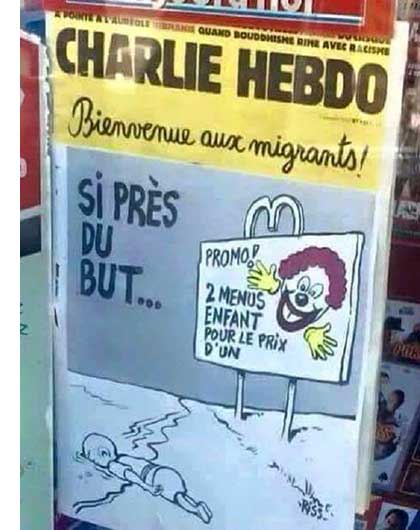 The second cartoon "The proof that Europe is Christian" shows the toddler drowning in water. Right beside him is a man, probably Jesus, walking on water. The cartoon reads "Christians walk on water. Muslim kids sink."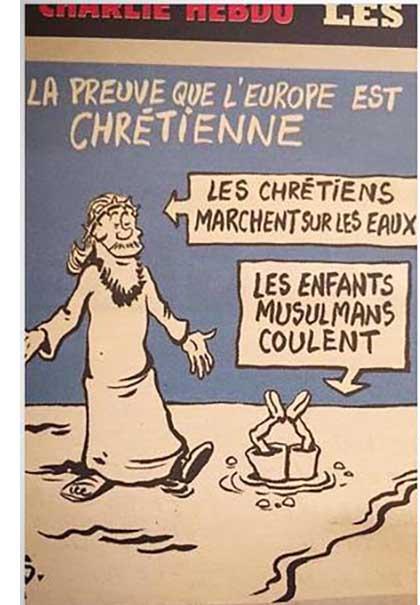 Soon after cartoons went viral on the internet, Charlie Hebdo received harsh criticism on social media on being so insensitive by featuring such offensive cartoons. Twitter users labeled this act as "most disrespectful".
This is how the internet reacted:
Your friendly reminder that satire punches up and not down & that Charlie Hebdo and their racism are not satire.

— Arnessa (@Rrrrnessa) September 14, 2015
Have Charlie Hebdo ever created cartoons of "dead White European babies" ? Where are those ironic cartoons? Where are those depictions?

— C-ORE out SEPT 18TH (@MykkiBlanco) September 14, 2015
Finding fascinating the liberals who've "finally lost respect for Charlie Hebdo" after they mocked that Syrian refugee child.

— Zoé S. (@ztsamudzi) September 14, 2015
Charlie Hebdo mocking Aylan, the child that drowned. Where are all you "Je Suis Charlie"s at now? Disgusting. pic.twitter.com/zdJEOr397o

— Tayyab (@Tayyxb) September 14, 2015
Charlie Hebdo have printed two cartoons mocking Aylan Kurdi, further evidence that they use satire not to mock power, but the powerless.

— samayya (@mayyasa1) September 14, 2015
Most of those defending Charlie Hebdo are the white folks and they claim they are not racist and xenophobic. White supremacy is the problem.

— theo hughes (@theoQuotes) September 15, 2015
I get that the target for #CharlieHebdo may have been Western consumerism, but I still think their latest cartoons are in very bad taste.

— Vikram Chandra (@vikramchandra) September 15, 2015
If you think Charlie Hebdo mocking the death of Aylan Kurdi is freedom of speech then you're part of the problem.

— Abu Hashim (@zvyyvd) September 14, 2015
Charlie Hebdo publishes cartoon of Aylan Kurdi. Because nothing says satire like a dead kid. http://t.co/qoK8nQJ8ol

— Gary Younge (@garyyounge) September 14, 2015
Stop #CharlieHebdo pic.twitter.com/AhJN1ftGVf

— DUC DE TOURAINE (@TitalBenz) September 10, 2015
They can close the borders but not their eyes. #AylanKurdi 🙏 R.I.P

— katy (@katya_Bj) September 15, 2015
African infants were found washed ashore on a beach in Libya 5 days before #AylanKurdi. The media ignored their story pic.twitter.com/oheZPTXzzg

— Black Intifada (@Akhenaten15) September 12, 2015
The dead body of Aylan Kurdi washed up on a Turkish beach late August and caused massive outrage across the world, highlighting the heartbreaking refugee crisis Syria is going through.
The harrowing image made headlines worldwide while prayers poured in for the refugees. It even led to many countries expanding their refugee intake programmes so as to help them in every possible manner.