The 'superphone' is finally here; Will anyone buy the Samsung Galaxy Note 8 at $930?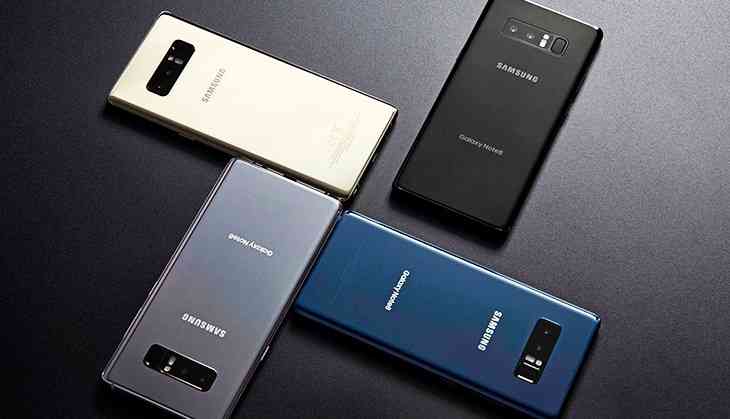 Combustible. A complete disaster. Explosions. Samsung is hoping that the Galaxy Note 8 washes away the fires of last year's ill-fated Galaxy Note 7 that went through two recalls before being completely banned from being sold. After months of leaks, rumours, and photoshopped images and over a year after arguably its worst moment in the past decade, Samsung has officially unveiled the Galaxy Note 8.
The launch took place on 23 August at an event in New York City. The launch comes just a week after 10,000 batteries for the Galaxy Note 4 were recalled due to the risk of overheating.
South Korean electronics giant Samsung's flagship phablet is its largest ever. It features a 6.3-inch wrap around Super AMOLED screen with a 1,440x2,960 resolution with an aspect ratio of 18:5:9. and houses an S Pen stylus. The screen is almost bezel-free and features an 'infinity display'. The phone measures just 8.6mm. The phablet comes with two sensors dual camera on the back that Samsung claims is the best among all of the competition, even outshining iPhone 7's dual rear cameras. The Note 8 will be released in stores in the USA on 15 September.
In India, the launch date is set for mid-September though no exact date has been confirmed yet. Latest information is that it might be an Amazon exclusive here in India.
This is Samsung's first dual camera smartphone and it's hoping that the cameras alone will help it sell a large number of devices. It has two 12-megapixel shooters on the back of the phone. The main of the two sensors has an aperture of f/1.7 and dual-pixel autofocus. The other one is a telephoto lens with an aperture of f/2.4 and 2x optical zoom. Both the snappers feature optical image stabilisation (something that is missing from the OnePus 5).
The front-camera is an 8-megapixel shooter with a f/1.7 aperture.
The Note 8 comes with IP68 certification for dust and water resistance. It is powered by a Qualcomm Snapdragon 835 processor in the USA and an Exynos 8895 processor elsewhere. There is 6GB of RAM along with three storage variants of 64GB, 128GB and 256GB. It's also got the rear-mounted fingerprint sensor, that like the Samsung Galaxy S8, is located right beside the camera. Why it didn't move it anywhere else, is beyond anyone.
It comes with a dedicated Bixby button. The phone's battery is 3,300 mAh and supports fast charging technology, for both wired and wireless charging. The phone comes with Android Nougat 7.1.1 out of the box and will be one of the first of the Samsung devices to get Android Oreo. The Note 8 will come in four colours namely Midnight Black, Maple Gold, Orchid Grey and Deep Sea Blue.
Finally, like the Galaxy S8 before it and unlike Apple's iPhone 7, the Note 8 comes with a headphone jack.
The Note series has been a huge success for the company with many customers still holding on to their Note 4 and Note 5's. Despite last year's setback, Samsung is pushing ahead with its dual cameras, improved S-Pen stylus, non-exploding batteries and infinity display. The question is, will consumers be willing to fork out northwards of $900 for the smartphone?
Will the $930 price point sting consumers or will they bite?
David Pierce of Wired magazine wrote about the rumoured price of $1,200 for the iPhone 8 and how, if it did launch at that price, a new category of 'superphones' would be created. With Samsung's Galaxy Note 8 starting at $930 (around Rs 60,000), it's not wrong to put it in that category.
Most consumers will be waiting for these high-end smartphone features to trickle down into a price category that they are comfortable with. Samsung has the brand value to command consumers to pay a high-price but northwards of $900 has rarely been tested before.
Whilst the price is substantially higher than anything we've ever been used to, it isn't a giant leap in absolute figures. Last year's Note 7 and this year's Galaxy S8+ both started above $800. The generation previous to that started at $700.
So we've been conditioned year after year to expect the price to be slightly more due to more technology being thrown in and the production of these new technologies not yet at economies of scale.
The fact that the S8 and S8+ have been selling really well is a testament to the increasing price points. There is also the fact that discounts are frequent, both in the USA and here in India. Lastly, trade-in deals will also be a huge factor in the selling of the Note 8.
The other difference maker is the S Pen. With the Galaxy S8 and S8+, you don't get it. It's an exclusive to the Note series, as of now, and is really helpful when navigating such a large phone. The Note phablet gives consumers the abilities to take notes and that is an easy selling point.
Last but not the least, it is below the $1,000 price barrier. That is psychologically crucial.