Samsung Galaxy Note 8 has S Pen and dual-cameras. Will a beefed up Galaxy S8 sell at Rs 67,900?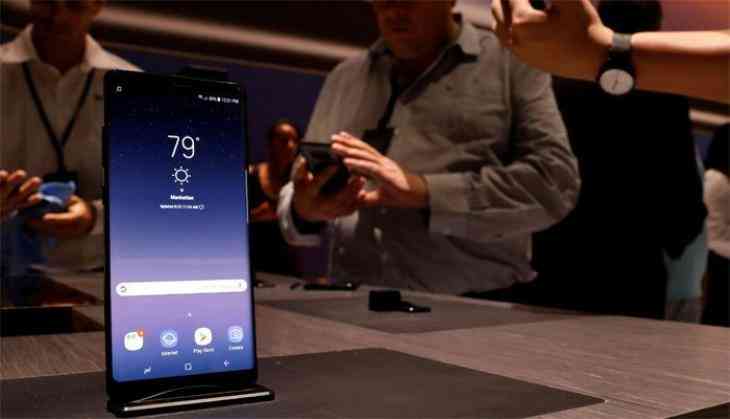 Samsung has put its woes of last year's combustible phablet, the Galaxy Note 7, behind them. At an event in New Delhi on 12 September, Samsung launched the Galaxy Note 8 in India at a sky-high price of Rs 67,900.
Essentially, with its Infinity Display and it being only 0.01-inch bigger than the Galaxy S8+, this is just a souped up version of their flagship S-series smartphone launched earlier in the year. The Galaxy Note 8 does have the advantage of being Samsung's first dual-camera smartphone in the market and the might of that S-Pen shouldn't be forgotten.
Recently, Samsung opened pre-registrations for the device in India on both Amazon and its e-store and 2,5 lakh people showed interest in purchasing the device. It doesn't cost a paisa to register your interest in the device and so that number should be taken with a pinch of salt.
Will the smartphone sell in the second most populous country is the question. Probably not as much as Samsung would like but a whole lot more than Apple is going to sell.
It's a phablet!
Samsung's Galaxy Note 8 fits squarely in the type of smartphones known as a phablet. Phablets are essentially a cross between a tablet and a smartphone. The smartphone comes with a 6.3" Quad HD+ Super AMOLED display with a 2960x1440 resolution (521ppi). It's an edge-to-edge display that Samsung calls the Infinity Display.
It has two 12-megapixel shooters on the back of the phone. The main of the two sensors has an aperture of f/1.7 and dual-pixel autofocus. The other one is a telephoto lens with an aperture of f/2.4 and 2x optical zoom. Both the snappers feature optical image stabilisation. The front-camera is an 8-megapixel shooter with a f/1.7 aperture.
Under the hood is Samsung's own Exynos 8895 processor along with 6GB of RAM and 64GB of storage (expandable via microSD card). The connectivity options - 4G LTE, VoLTE, NFC, Bluetooth 5.0, dual-band Wi-Fi and GPS with GLONASS - are standard for a flagship smartphone.
The battery is a hefty 3,300 mAh and comes with fast charging company with QC 2.0. It also supports wireless charging. The Note 8 comes with a headphone jack, so all you audiophiles can heave a sigh of relief.
The device supports Samsung's DeX platform that allows for a full-fledged desktop experience. Software on the phone is Android Nougat 7.1.
While Samsung launched four colour options in the USA, it's only brought two of them - Midnight Black and Maple Gold - to India.
As far as launch offers go, early buyers will get a one-time screen replacement along with a wireless charger. If you make a purchase with an HDFC credit card, you can avail 4,000 cash back. Finally, Reliance Jio users will get 448GB of extra 4G data. Samsung is also introducing a Samsung Upgrade program where an old Galaxy Note device can be exchanged for a Note 8.
The device will be delivered to those that have pre-booked the phablet on September 21 and once those orders are fulfilled, it will be brought to Amazon, Samsung's e-store and offline partners.
What the company couldn't confirm
In a roundtable discussion after the launch, Asim Warsi, Senior Vice President, Mobile Business, Samsung India, was on hand to answer some of the questions. Here is a list of things he couldn't confirm to the media:
When Android Oreo 8.0 will be coming to either the Galaxy Note 8 or the Galaxy S8. Android Oreo was released a couple of weeks back and some companies like OnePlus already have a beta out for Android Oreo. Samsung couldn't confirm a timeline for the update.
Colour options: Samsung launched the Note 8 in four colour options. Two - Midnight Black and Maple Gold - are coming to India. Warsi said that only if there is demand will the other two colours - Orchid Grey and Deep Sea Blue - be launched in India.
Sensor: Samsung's first dual-camera lenses come with some serious sensors and a more than capable shooters.Warsi again couldn't confirm which sensor had been used in the Note 8.
Launch date: All Warsi said was that "once pre-orders are fulfilled, the smartphone will launch in the market". Therefore, it could be absolutely any day after September 21 and those who want to physically see the device before making a decision will have to play the waiting game.
Bixby and Bixby Voice: Bixby will be available to consumers of the Note 8 and Galaxy S8 and S8+ starting from 30 September. Samsung has also adapted Bixby Voice for the Indian market. Warsi couldn't confirm whether any of the other Samsung series smartphones will be getting Bixby anytime soon.
Will the phablet sell?
The elusive question. How many consumers are willing to spend Rs 67,900 on a phablet? A lot it seems. According to Samsung market research, 87% of Note users are satisfied with their devices and 82% would recommend it to their friends. Samsung says they have captured 68% market share in the premium smartphone segment. That's a huge number indeed.
How many of the premium segment consumers will want the dual cameras and S-Pen? A lot of consumers might be content by saying some money - Rs 67,900 Galaxy Note 8 vs Rs 57,900 Galaxy S8) - and not being swayed by a few extra features. Also, the S8 has launched a few months ago, often gets a discount and has many offers, while Galaxy Note 8 is fresh off the factories.
The S8 might just canablise the sales of the Galaxy Note 8. The S8, six months down the road, is still very much a capable device.
We know that the series of superphones is now a reality. With just a couple of hours to go for Apple's launch at Steve Jobs Theatre, the expected price for the bezel-less futuristic iPhone X is $999. In India, it's expected to touch 1 lakh rupees. Now, Rs 67,900 is a much easier price to digest and Apple will probably sell close to zero iPhone X's in India. Consumers may buy from the United States but highly unlikely to buy locally.
There are also those consumers who are willing to wait 6 months to a year for the features of the Galaxy Note 8 and iPhone X to trickle down into cheaper segment smartphones.
The might of the S-Pen not to be undermined, the Galaxy Note 8 will sell just enough for Samsung to keep the Galaxy Note series alive in India. The most expensive smartphone in India is about to go on sale (that's before the iPhone X launches in the country) and only time will tell whether it flies off the shelves or not.