Blackmagic Design designs new Pocket Cinema Camera 4K resolution; video inside‬‬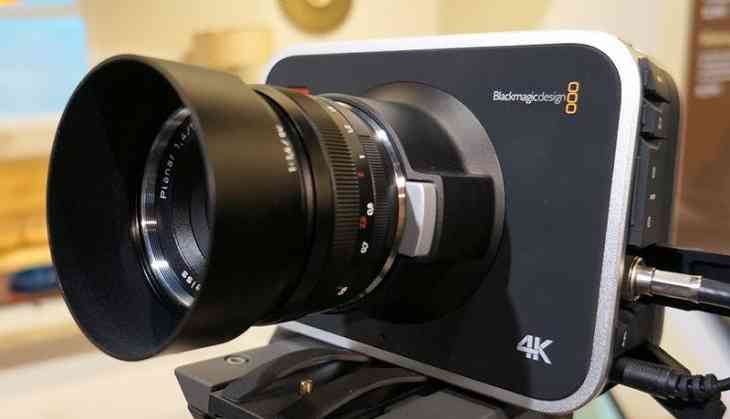 The Blackmagic design, an Australian digital cinema company and manufacturer. The company is based in Port Melbourne, Victoria, Australia. It designs and manufactures broadcast and cinema hardware and develops video editing software too.

Recently, the company launched a new version of its Pocket Cinema Camera and the camera can shoot 4K video. The new camera can capture the footage in 10-bit ProRes or 12-bit RAW and it can also record straight to external drives over USB-C, which makes it possible to record large 4K RAW files. The new version will launch soon this year for $1,295 ($300 more than original).

"The full size of the 4/3 sensor is designed to perfectly match MFT lenses so the crop factor is greatly reduced, giving customers a wider field of view," said Blackmagic.
Also Read: Using Facebook may affect your mental health, new study reveals
The camers is not exactly thin but it's larger than the old version. The new model has 5-inch display on the back, instead of a 3.5-inch display. It also includes a full-size Micro Four Thirds sensor, whereas the old model was closer to Super 16. This function is good for depth of field and low light.

The camera is famous for creating pro video tools, from cameras, to broadcast equipment, to the industry standard color grading software. The company also makes low-budget which is helpful for amateur and low-budget filmmakers.

"It also uses the same Blackmagic OS as URSA Mini so customers can use simple tap and swipe gestures to adjust settings, add metadata and view recording status," Blackmagic says. "On screen overlays make it easy to see recording parameters, status, histogram, focus and peaking indicators, and playback controls."
Also Read: Foxconn to manufacture world's first blockchain smartphone