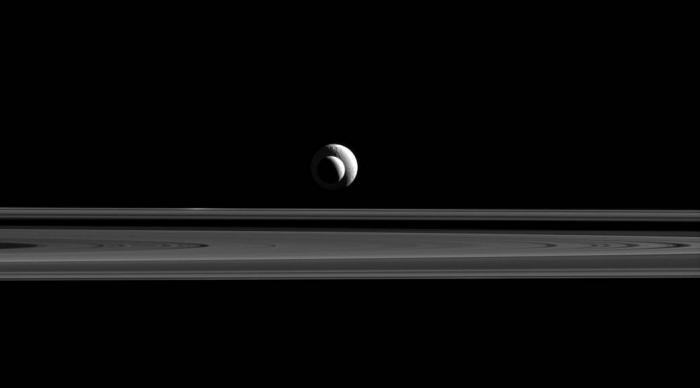 National Aeronautics and Space Administration (NASA) just released a breathtaking image of Saturn's moons - Enceladus and Tethys as they lined up almost perfectly for a shot from Cassini's camera.
NASA says, "Since the two moons are not only aligned, but also at relatively similar distances from Cassini, the apparent sizes in this image are a good approximation of the relative sizes of Enceladus (313 miles or 504 kilometers across) and Tethys (660 miles or 1,062 kilometers across)."
The image also shows the unilluminated side of Saturn's rings. The image, taken on 24 September, 2015, was captured in red light with the Cassini spacecraft narrow-angle camera.
"The image was obtained at a distance of approximately 1.3 million miles (2.1 million kilometers) from Enceladus", adds NASA.
"Image scale on Enceladus is 7 miles (12 kilometers) per pixel. Tethys was at a distance of 1.6 million miles (2.6 million kilometers) with a pixel scale of 10 miles (16 kilometers) per pixel", the space agency adds.