As the Syrian refugee crisis escalates amid heavy terror situations in Paris, Beirut and Nigeria, Google has launched a Fortune Teller Website to create awareness about the pathos faced by refugees fleeing war.
MercyCorps, an international development organisation which helps people in conflict ridden areas, complied a comprehensive report on the Syrian crisis. The report states that nearly half of the country's pre-war population of about 23 million is in dire need of assistance, that includes those living in the country and refugees who have flown abroad.
This new website launched by Google is an attempt to create widespread awareness about the Syrian refugee crisis.
When you go the Fortune teller site and clicks on the 'Predict my Future' button, the website will redirect you into a page which says, 'OF COURSE WE CAN'T PREDICT YOUR FUTURE! But 60 million refugees ask themselves every day if they have a future at all. So we used a fake Google-site to get your attention because apparently you were interested in your own future. Please take a moment to think of their future.'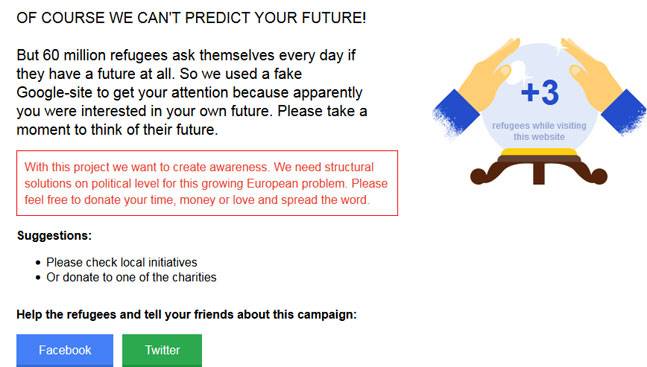 You can make donations and to help millions of innocent Syrian civilians fighting this crisis. Check HERE