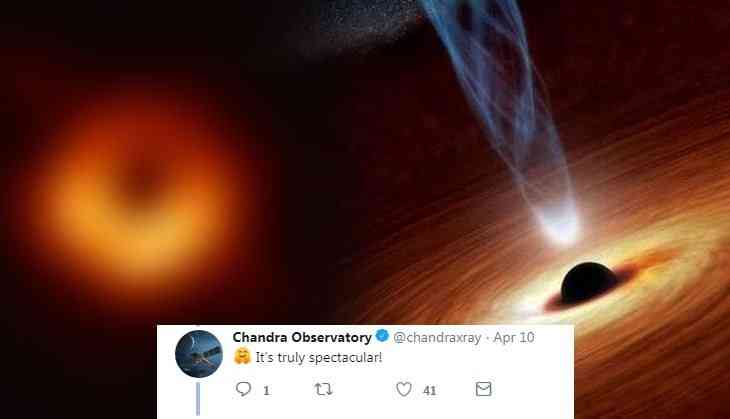 Astronomy has reached another level after capturing the first image of the black hole. The mystery that always runs into the heads of millions of people that how is the look of the black hole and where it is?
For such queries, astronomers have given the answers by successfully capturing the image of the black hole. To get its first image, eight telescopes have been used in the process.
The black hole does not permit to penetrate any light and any form of matter from it.
What does today's black hole image news mean? Our @ChandraXRay Observatory team puts it into perspective and shares just what a difficult feat it was for @NSF and @EHTelescope to obtain the new black hole image. Read more about #EHTBlackHole: https://t.co/s9xoxt8l3S pic.twitter.com/TQD8HSdbGG

— NASA (@NASA) April 10, 2019
The first image that has been shared by the astronomers showed the outline of the black hole which is showing a halo of dust and gas.
Well, this historic moment was captured by Event Horizon Telescope, which is a group of eight radio telescopes that are scattered through Antartica to Spain and Chile.
However, it was not easy to get a single image of the black hole. Thanks to over 200 scientists who have to spend their nights and days to bring the first look for the world.
The special thanks to the 29-year-old scientist, Katie Bouman, who led the creation of an algorithm to produce the first image of a black hole.
The end is near pic.twitter.com/YEFYxp44oN

— Alex (@Alex91842581) April 10, 2019
Very close to what Interstellar (2014) envisioned. pic.twitter.com/GjLbBd6cUW

— Carlos D. Montemayor (@cd_montemayor) April 10, 2019
@NASA @chandraxray Actually... pic.twitter.com/Ham2mGyyRd

— Larkis® (@larkisen) April 10, 2019
No lo sé rick pic.twitter.com/E0L9EgQTQM

— Augustiner (@AgusLiiza) April 11, 2019
Wait I've seen this before pic.twitter.com/6XDM0QZoss

— RussThaRealMVP (@dazdilly2323) April 10, 2019
I've seen clearer big foot photos 👀

— datGuy_bry (@datGuy__bry) April 11, 2019
April 10, 2019
Em 4K pic.twitter.com/qt3S0pUQNQ

— António Barreto Costa (@Afbcosta) April 10, 2019
Ok, that's me right now... but congrats anyway... pic.twitter.com/5vDKCWGhxA

— An_Old_Enemy (@An_Old_Enemy) April 10, 2019
Do not exaggerate we see it every day 😄

anterior wall ischemia of #BlackHole 🙃#NuclearMedicine #myocardialscintigraphy #NuclearCardiology pic.twitter.com/z1Mm9WW1eO

— Hipokrat Yeminli Dr. (@drfatihbati) April 10, 2019
I made this song as a special tribute to the black hole. Enjoy! pic.twitter.com/79z2OrotOX

— DR CEM (@thegreatcem) April 10, 2019
However, Albert Einstein has already predicted the presence of black holes in 1961.
What is NEXT? Mars?

•Albert Einstein predicted the existence of black holes in 1916.

•The term "black hole" was coined in 1967.

•The first one was discovered in 1971.

•Today we are looking at an image of a black hole.

We live in the age of wonder. pic.twitter.com/d8axfsr98Z

— GlobeMars Community (@Globe_Mars) April 11, 2019
Well, hats off to our scientists who bring the imagination to reality!
What do you think? Comment...
Also read: Was genius Albert Einstein really got failed in Math? here's what you should know about the great physicist