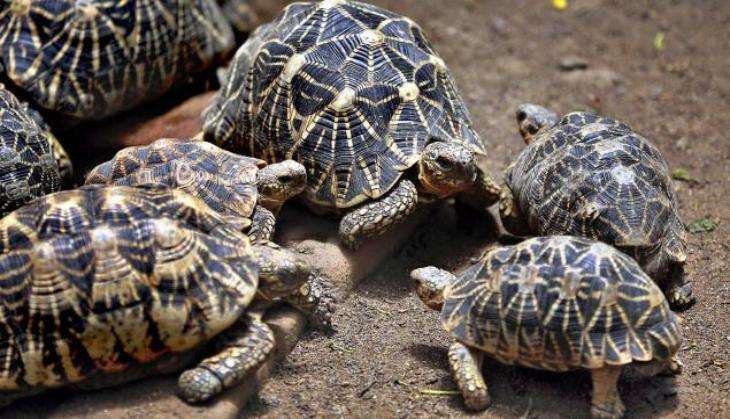 The online trade of endangered animals is flourishing and it is almost impossible to curb it. The online sale of animal organs and protected animals is prevalent on e-commerce websites and also via social networking websites.
A report in Mail Today points towards this illicit trade of animals. On 15 June, authorities in Uttarakhand arrested a man found to be selling a turtle of protected species on OLX.com.
Another man from Delhi was reported to have uploaded an ad to sell a bunch of Indian roof turtles on OLX. The demand for such animals is said to be quite high in the Delhi-NCR region.
"A strict vigil is being kept on various websites, which are being used to sell such animals. However, it is impossible to keep a complete check as new websites pop up every day. Legal issues arise when trading is being done on a website hosted outside India and in most of the cases, sellers use fake ids and change their IP to operate," said Triveni Singh, additional superintendent STF, quotes Daily Mail.
Codenames for animals
To escape the police radar, traders are using code names for animals and their organs. However, a point to note here is that these websites easily allow such ads without any filter and supervision.
"There are over 400 protected birds and animals, but the websites and portals do not even know it. They are selling animals and their parts not knowing that even they are party to the crime," Singh told Daily Mail.
The report says that a senior official from Wildlife Crime Control Bureau (WCCB) confirmed that there are more than 200 websites used to trade animals.
There are popular code names for animals and their parts. Aaloo (potato) is popularly used for musk deer, kola (banana) for elephant's tusk. Despite a ban on ivory, traders are using such codewords to sell it.
The code names are said to change frequently to stay a step ahead of cops.
Koala is called the 'Australian teddy bear' and it is prohibited to keep it as a pet, given the fact that it is a threatened species.
With all these technicalities, it becomes almost impossible to nab these traders. The flawed system of online advertisements and sales is another huge barrier.